Through educational and practical experiences the Therapeutic Recreation program prepares graduates to be competent entry-level Therapeutic Recreation Specialists in the cognitive (knowledge), psychomotor (skills), and affective (behaviour) learning domains. Graduates of the program will be prepared to successfully meet the requirements to complete the National Council for Therapeutic Recreation Certification (NCTRC) exam and become a Certified Therapeutic Recreation Specialist (CTRS).
We offer both an online and on-campus program to fit our students' diverse learning and life styles.
Regardless of your pathway, student engagement is a priority in our courses. Every course is developed with specific course learning objectives established to ensure your success in TR.
The on-campus program offers: 
More hands-on learning on campus compared to online:

Disability Lab Simulation to enhance learning,
In-class activities during lectures,
Service-learning

We are exploring agencies across Lethbridge through field trips to agencies that serve vulnerable populations.
Direct access to the instructors of the course through lectures, office hours, and other meetings.
The on-campus program can focus on the different learning styles of students on campus.
More elective choices for on-campus students.
Scheduled school lectures and course dates and times.
The on-campus program is tailored towards students who learn better in person.
Easier access to library services (e.g., physical books).
Easier access to computer labs, printing, photocopying, etc.
Greater feelings of belonging to the University of Lethbridge community with access to the recreation centre, varsity and recreation sports teams, etc.
Instructors who teach primarily on-campus TR courses include Devan McNeill, Aimee Douziech, and Lyn Litchke.
The online program offers: 
Most of the courses are asynchronous, meaning they are pre-recorded or not scheduled during a specific time and date each week. Some courses require synchronous learning (e.g., TREC 3400 and TREC 4550 [practicum]).
One course requires in-person learning (TREC 4550 [practicum]), but all other courses can be done online. 
More flexibility with completing courses on your timeline and from any location. For example, if you are a night owl, online learning could be ideal for you.
Ability to continue to live and work in your home city/town for most of the program. Potential cost-saving measures.
Access to your established social network/support system.
Taking a short time throughout the day to get work done instead of 3-hour block lectures during the week.
Less hands-on learning through the online program. This program is tailored towards students who are independent learners.
We ensure that our class sizes remain small enough that all students will have direct access to the course instructors.
Students in our online courses have access to multiple support services, including Moodle support, YuJa support, and an academic advisor.  
Instructors who teach primarily online TR courses include Zac Crouse and Sienna Caspar.
Q: Can I take the program with online delivery? 
A: Yes, we offer admission into an online cohort. The internship/practicum is full-time (30-40 hours a week), 15-week placement with a CTRS supervisor and must be completed during the degree. Students can complete the program part-time or full-time (depending on the number of courses taken per semester). Students must complete the program in 6 years.
---
Q: Can I take the program at the main campus? 
A: Yes, If you attend the main campus the majority of your classes will be taught in a classroom setting, although students should be prepared to complete a few online courses throughout the program. Students who attend main campus full-time can complete the program in two years.
---
Q: I possess an undergraduate degree in a related field and wish to be a Certified Recreation Therapist Specialist, can I enter the program?
A: Yes, we have an after degree option for both our on campus and online/blended formats for those who have an approved undergraduate degree (a minimum of 90.0 credit hours from a recognized degree-granting institution).
---
Q: I am currently working in the field and already possess an undergraduate degree, can I take some courses from the program without applying to the program? 
A: Yes, if you are seeking certification through NCTRC and do not need the practicum component to meet your certification then you can sign up to take courses through Open Studies. Online and on campus registration through Open Studies is always dependent upon seats available in the course, after admitted students have registered.
---
Q: How long do I have to complete the program? 
A: All degree requirements must be completed within six (6) years of completion of the first Therapeutic Recreation/Health Sciences course used for credit towards the degree.
---
Q: I already completed some of the support courses in my diploma program, do I have to retake them? 
A: Yes. Because we are granting students a block transfer of two years towards a four-year degree no additional transfer credit will be granted. Students also need to take these classes to ensure that they are meeting NCTRC requirements which are included in our courses.
---
Q: Can I complete the program completely online? 
A: Students admitted to the Online campus can complete the program fully online; however, the program also has a full-time internship that must take place at an agency in person.
---
Q: What GPA requirements do I need to graduate from the program?
A: A minimum grade of 'C' is required in all Therapeutic Recreation (TREC) courses. Any student who receives a grade of 'C-' or lower is required to repeat the course and achieve a grade of 'C' or higher. To graduate, students must have a cumulative GPA of at least 2.50 on all Therapeutic Recreation (TREC) courses taken for credit towards the degree. More information can be found in the Academic Calendar or by contacting your academic advisor.
A list of required courses and a suggested course sequence plan can be found in the Program Planning Guide.

Online students admitted in 2019 or earlier will follow the course sequencing found here.
The University of Lethbridge Library has extensive resources available for Bachelor of Therapeutic Recreation students. Read full details here.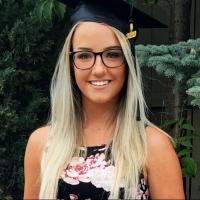 My experience taking the BTR program at the University of Lethbridge exceeded all my expectations. I gained so much knowledge, built lifelong friendships, and created professional networks that have truly helped further my career. The theoretical knowledge and practical applications gained throughout the program and internship have allowed me to excel in the field of Therapeutic Recreation."

Ashley LaValley