Through educational and practical experiences the Therapeutic Recreation program prepares graduates to be competent entry-level Therapeutic Recreation Specialists in the cognitive (knowledge), psychomotor (skills), and affective (behaviour) learning domains. Graduates of the program will be prepared to successfully meet the requirements to complete the National Council for Therapeutic Recreation Certification (NCTRC) exam and become a Certified Therapeutic Recreation Specialist (CTRS).
The Bachelor of Therapeutic Recreation program is accredited by the Commission on Accreditation of Allied Health Education Programs (www.caahep.org) upon the recommendation of the Committee on Accreditation of Recreational Therapy Education (CARTE).

Commission on Accreditation of Allied Health Education Programs
25400 US Highway 19 North, Suite 158
Clearwater, FL 33763
727-210-2350
www.caahep.org
University of Lethbridge students have higher than the international average of pass rates for the NCTRC exam. Within the testing period of 2017-2019, 100% of University of Lethbridge students taking the NCTRC exam passed (international average is 81.6%).
Internship/practicum students are rated on their overall experience by supervisors on a scale of 1-5 (1=Does not meet expectations, 2=Below expectations, 3=Achieves expectations, 4=Above expectations, 5=Exceeds expectations). The average score from the past 12 months is 3.42 on this scale. 
Admission Requirements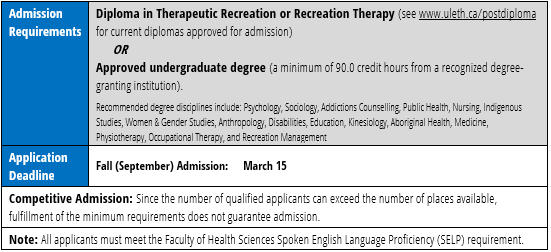 Therapeutic Recreation Definition
Therapeutic Recreation uses a systematic process (assess, plan, implement, evaluate, and documentation) towards making changes in a person's emotional, spiritual, mental, social, and physical well-being in the environment that they reside. Therapeutic Recreation engages persons based upon their abilities in planned recreation and related experiences, promotes and educates persons in health and wellness, and reduces or eliminates activity limitations to achieve optimal health and well-being.C
Career Opportunities
Graduates pursue careers as certified therapeutic recreation specialists in a variety of settings including long term care, acute care, day programs, rehabilitation, youth-at-risk, community centres, and mental health and addictions.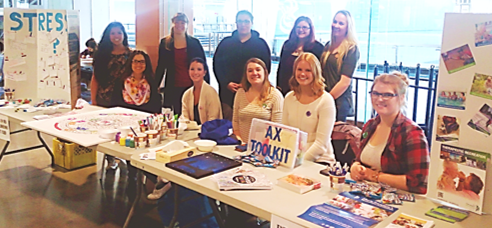 Goals of graduates of the Therapeutic Recreation Program
• Demonstrate ethical and professional conduct as defined by Therapeutic Recreation professional, certification, and human rights legislative acts.
• Assess and systematically collect comprehensive and accurate information to plan one-on-one and group programs/interventions.
• Collaboratively plan and develop care plans that identify measurable and meaningful goals, modalities, techniques, and interventions specific to the needs of the person.
• Implement program plans using current, evidence-based interventions to encourage meaningful participation, make changes in the person's well-being, and engage in life activities.
• Conduct evaluation to determine changes that occur based on programs implemented.
• Deliver therapeutic recreation programs that respect diversity of the people that they serve.
Graduates of the Bachelor of Therapeutic Recreation program may choose to pursue graduate studies in the Health Sciences major in the Master of Science program and the Population Studies in Health major in the Ph.D. program at the University of Lethbridge.