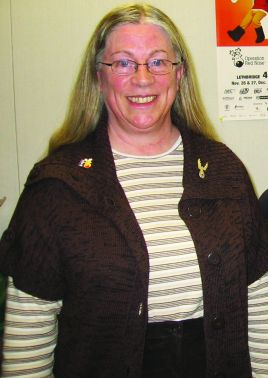 It was the involvement of her three children -- Jim, Sean, and Heather -- in University of Lethbridge athletics that initially led the late Debby Steacy to join the Pronghorn Booster Club, which raises funds for University athletics through a variety of programs and initiatives. But her passion for the success of all of the University's athletes led her to actively volunteer for more than a decade. During that time, she was vital in helping to generate more that $500,000 for Pronghorn Athletics.
One initiative that was particularly close to Debby Steacy's heart was Operation Red Nose, a safe-driving campaign that provides drivers with rides home during the holiday season on a donation basis. She worked tirelessly to expand and strengthen this important fundraiser by overseeing hundreds of volunteers, conducting administrative tasks, and together with her family, coordinating each evening of the operation. The considerable work and time she invested in the program led to more effecient operations, more volunteer participation and greater financial support for the University's athletic teams.
For 10 years, Debby Steacy also helped facilitate the organization's annual Dinner and Auction event by assisting with tasks such as overseeing the participant application process and recruiting volunteers. As well, she was heavily involved with a number of track and field team initiatives. Her organizing skills, attention to detail, and cooperative working style were critical assets to the club's overall operations.
Beyond her involvement with University Athletics, Debby Steacy spent countless hours in her community volunteering for various causes and organizations. She was a director-at-large of the Athletics Alberta board of directors, secretary of the Southern Alberta Track and Field Council, and an Athletics Alberta track and field official. She was extensively involved in local school councils, participated in two Lethbridge School District committees and was a classroom volunteer for more than 15 years. Debby Steacy was on the board of directors for the Southern Alberta Professional Development Consortium, and was a member of the planning committee for Weaving Words: Extending Literature Through the Fine Arts Converence. She was also a Royal Conservatory of Music piano and theory teacher and served as an accompanist for school choirs.
A successful Canadian Interuniversity Sport (CIS) varsity athlete herself, Debby Steacy was proud to support the athletic careers of her children, all of who were highly decorated Pronghorn track and field athletes who excelled at the throwing events. Sean was a champion at the CIS level, and Jim and Heather each reached the pinnacle of sport by representing Canada at the Olympic Games in hammer throw -- Jim at Beijing (2008) and London (2012), and Heather in London (2012).
Although Debby Steacy passed away suddenly last year at the age of 58, her vigorous chmpioning, volunteerism and community spirit have left an enduring impact on Pronghorn Athletics. The University of Lethbridge is proud to honour Debby Steacy's exemplary service with the 2015 University of Lethbridge Volunteer Award.