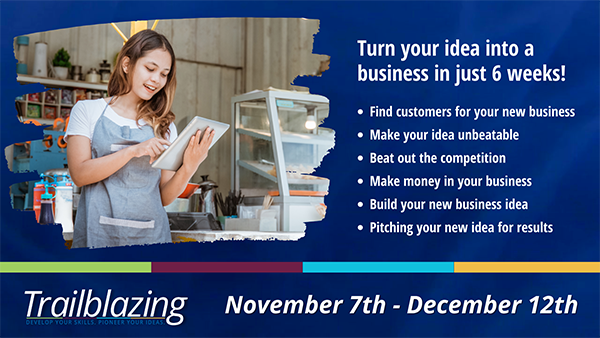 What is Trailblazing?
Are you tired of sitting on your idea, unsure of how to bring it to life? Unsure if your idea has what it takes to succeed? Perhaps you're looking to start a side-hustle or a side-gig to earn some extra income. Maybe you're considering contract work but want to refine your brand and offerings first. If these questions have been on your mind, look no further than Trailblazing - the ultimate early-stage entrepreneurship course!
Trailblazing is designed specifically for individuals who have the ambition to start their own business but lack the knowledge and guidance to get started. Our comprehensive program will take you through the initial steps of developing and refining your business idea. Whether it's defining your target customers and early adopters, understanding financial aspects and pricing models, or building your first prototype, Trailblazing equips you with the essential foundations for a successful business.
What sets Trailblazing apart is our commitment to supporting early-stage entrepreneurs in defining, validating, and preparing their business ideas. We provide you with the tools, resources, and expert guidance needed to transform your idea into a thriving venture. To give you a better idea of what to expect, take a look at our past course syllabus.
Don't let your idea go to waste. Join Trailblazing and unleash your entrepreneurial potential today!
Dates: November 7th, 14th, 21st, 28th, and December 5th, 12th
Time: 6:00 – 7:30 pm
Location: Online
In this program, you will flesh out your idea and build a pitch deck to help communicate your idea to others.
Trailblazing is broken into 6 main topics:
Find customers for your new business
Make your idea unbeatable
Beat out the competition
Make money in your business
Build your new business idea
Pitching your new idea for results
View the Spring 2023 Program Syllabus to get an idea of what we have planned for the summer.*
*Content subject to change.
Set Yourself Up for Success
Set yourself up for success in the Trailblazing cohort by following these tips:
Prepare to spend ~4 hours/week on Trailblazing, and schedule time in your calendar to focus on your business idea
Utilize the 1-1 sessions with a mentor
Say goodbye to perfection
Come to Trailblazing prepared with a business idea in mind
Frequently Asked Questions
Jason Bacon Founder, Sunstone Strategic
Hello everyone! I'm Jason Bacon, and I've dedicated my professional life to supporting and empowering entrepreneurs. My journey began quite young – I still chuckle when I remember trying to sell tadpoles to classmates in the fifth grade. That early venture was swiftly shut down by our principal, giving me a firsthand lesson in regulation.
I hail from Alberta, having been raised in Peace River since I was 2, I eventually settled in Lethbridge, where I pursued a Bachelor of Management with a major in Finance. That's also where I met my wonderful wife and kickstarted my career in the finance industry.
Throughout the years, I've been privileged to guide thousands of business owners across Canada. I've worn many hats, from running the Chinook Entrepreneur Challenge, which was the largest business plan training competition in rural Canada, to my role as the Senior Manager of Entrepreneur Education at ATB Financial.
Now, as the founder of Sunstone Strategic, I guide entrepreneurs, providing them with the tools to build successful businesses. To further support this community, I wrote "Entrepreneur-ish: Inspirations and lessons in entrepreneurship from vikings, pirates and samurai", drawing from history to inspire the entrepreneurs of today.
I'm excited to be here to guide you through the Trailblazing program and help you develop the skills necessary to be a successful entrepreneur.
Rejoice Makiwa 
My company, Vhudzi, addresses the need for more equity in the hairdressing industry. We will help customers find a hairstylist qualified for their hair texture and able to get them their desired outcome. My app will provide a wide variety of reliable recommendations for local hairdressers. It will help customers connect and support of local black hairdressers. 
Joan Barredo
Coffeehouse Marketing Studio offers different marketing services for small business owners whose first language is not English. Our services includes producing editorial content for different platforms, audio and video materials, web design, and marketing strategy. Our main clientele are immigrant women, older business owners who struggled with the fast paced change in technology, and stay-at-home moms who just moved to the country.