The Department of Kinesiology and Physical Education enables students to study and promote life-long physical activity involvement.
Physical activity plays a major role in our lifestyle - from young to old we all participate in different physical activities. Kinesiology helps to understand these activities, the need for physical activity, as well as facets of motivation, history, anatomy, and psychology.
There are a number of hands-on opportunities available in the Department of Kinesiology and Physical Education - including coaching opportunities, fitness instruction, research and lab work.
The Department of Kinesiology and Physical Education also houses laboratories in the areas of Sociocultural Studies, Exercise Physiology, Balance and Motor Control, Emotion and Sports Performance, and Biomechanics.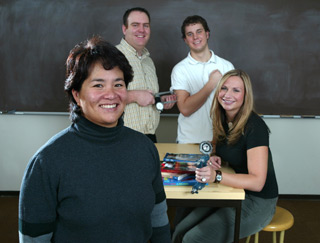 Students in the Faculty of Arts and Science have a number of special opportunities available including:
Participation in Conferences
Co-authorship of papers/publications
Involvement with professors on research projects
Opportunities related to your degree program in Kinesiology and Physical Education include:
Undergraduate (Honours) thesis
For more information on these degree-related opportunities, see Courses.