AMETHYST Postdoctoral Fellowships
Loredana Sorina Truica:
"Neuroscience"
Abstract:
---
AMETHYST Ph.D Students:
Melody Wang:
"Neuroscience"
Abstract:
Shiyong Xu:
"Estimating Carbon Loss in a Disturbed Forest Using Forest Canopy Modelling"
Abstract:
As one of the major natural disturbances for forest ecosystems, mountain pine beetle (MPB) epidemics in needle-leaf forests during the last decade have caused large forest degradation in western Canada, especially in British Colombia (BC). As carbon (C) sources or sinks, Canadian forests play an important role in the global C balance, but natural disturbances such as MPB overwhelm any efforts to influence the C balance through forest management. Forest beetle epidemics can also have severe impacts on socio-economic aspects and ecosystem cycling. Therefore, detection of the infestations, retrieval of biophysical parameters and C stock damage estimation are in high demand to provide timely information. Optical remote sensing (RS) may spatially locate MPB outbreak by efficient detection of forest spectral variations due to biochemical processes related to the post-attack stress reaction of trees. In addition, remotely sensing data combined with forest canopy modelling are an effective tool used for deriving forest attributes in disturbed forests. This presentation will focus on the optical geometric model-GOMS and possible improvement in the future research. Using GOMS model, the retrieved forest stand parameters and other information such as meteorological and topographic data, will be used to drive a process-based ecosystem simulation model for the purpose of monitoring forests productivity and the rates of exchanges of energy and matter with the atmosphere and hydrosphere.
---
AMETHYST M.Sc. Students:
James Banting:
"Terrestrial Remote Sensing"
Abstract:
Ashley Bracken:
"Terrestrial Remote Sensing"
Abstract:
Chelsea King:
"Terrestrial Remote Sensing"
Abstract:
Peter Kennedy:
"Terrestrial Remote Sensing"
Abstract:

Kevin Riddell:
"Terrestrial Remote Sensing"
Abstract: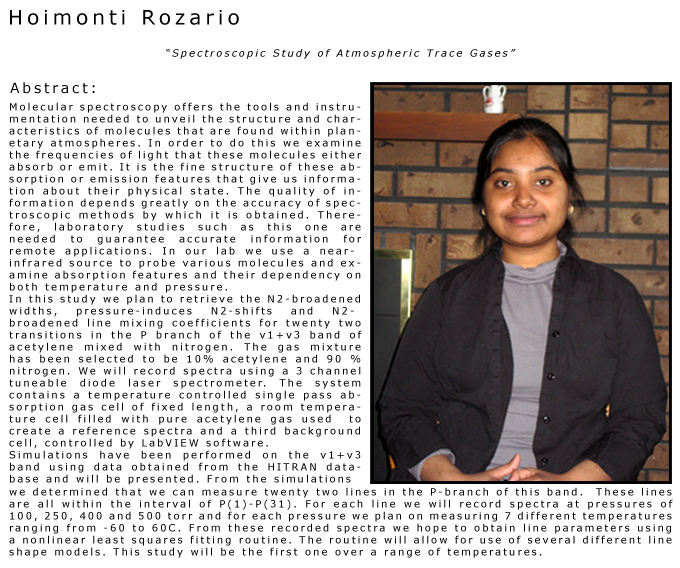 Jurjen van der Sluijs:
"Terrestrial Remote Sensing"
Abstract:
---
AMETHYST B.Sc. Students:
Shu Chen (Computer Science)
Jolene Garber (Biochemistry)
Gordon Logie (Geography)
Christopher Martin (Computer Science)
Reed Parsons (Neuroscience)