University Hall - Traditional Style Dorms

Click here for Floor Plans & Room Photos
Click here for a Virtual Residence Tour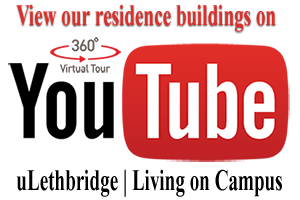 Housing & Dining
UHall is reserved for students coming directly from High School.
New University Students living in University Hall, Kainai House, or Piikani House are automatically enrolled in a minimum Commuter Residence Dining plan, with no option to "opt-out." This is a "room and board" program.
See Residence Dining Plan details
Eligibility to live on campus
Students must be enrolled in full-time studies at all times (9 credits or more per term).
Due to high demand, we are UNABLE to guarantee rooms to all applicants.
Main Academic Location
278 Fully-furnished rooms located on the lower floors of University Hall (sections C, D, and E).
See Room Rates for styles and pricing
See Full Campus Map
Barbecue
A barbecue is available for resident use in the Breezeway. Please contact your RA for access.