Housing Services has a variety of summer housing options for you!  
Full Summer Rental Discount Program
Two month discount will be offered on rental rates for full summer accommodations.  These rates are available to all tenants. In the summer months, you do not need to be enrolled in classes to live in residence. Summer Housing is available to students as well as anyone doing a Co-Op, Internship, performing research or working a summer job. 
Summer Discount Schedule:
| | | |
| --- | --- | --- |
| Term Start | Term End | Applicable Discount |
| Full Summer | Full Summer | 2 months free at the end of contract |
A discount of two months of rental rates will be offered to students who sign and complete a full summer contract with the discount being applied in the last two months of the contract. Summer units will be available in either the Residence Village or Tsuu T'ina or Siksika Townhomes depending on summer maintenance requirements.
Summer Storage and Room Guarantee Program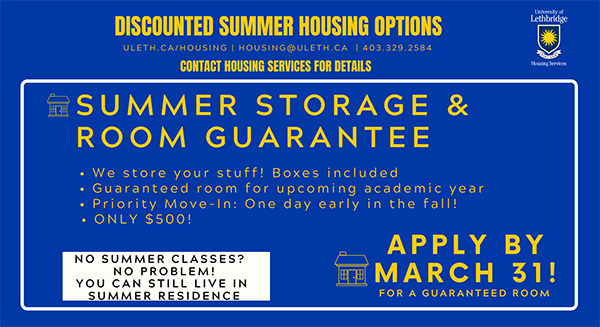 Students interested in this program must contact the Housing Office at housing@uleth.ca to sign up.
1) Resident agrees to the $500.00 non-refundable fee for this service.  
2) Residents will not have access to these boxes during the summer months.
3) Resident agrees to the University of Lethbridge entering the reserved unit for completion of the Summer Preventative Maintenance Program which may include but is not limited to cleaning, maintenance, emergency entry.
Housing Services summer storage program offers students the opportunity to reserve a unit from one academic contract to the next, as well as to store their personal belongings over the summer months.  This program is open to all current academic year resident students. Guaranteed rooms spaces, as well as summer storage, will be offered to students moving into or currently staying in Mt. Blakiston House, Residence Village, Tsuu T'ina and Siksika House.
Program advantages for students include: not needing to secure alternative summer storage, no moving required, a guaranteed spot in residence and the opportunity to move into residence one day early in September. This program will be particularly beneficial to international students and out of province students.
Students will not be permitted to occupy their unit for this period. Housing Maintenance and Cleaning staff will still need to access the unit periodically for inspections and general maintenance. Students are permitted to store their items in their bedroom only, not in any common spaces. No food items or scented items are permitted for storage and all belongings must be cleared from the floor.
The deadline to apply for this program is March 31, 2021.