Blackfoot pronunciation: Bee-kah-nee
We respectfully acknowledge that the University of Lethbridge is located in traditional Blackfoot Confederacy territory. We honour the Blackfoot people for whom our residence buildings are named. Pronunciation may differ between dialects. This pronunciation provided by TheWriterSThiessen
Piikani House Apartments

Click here for Floor Plans & Photos
Click here for a Virtual Residence Tour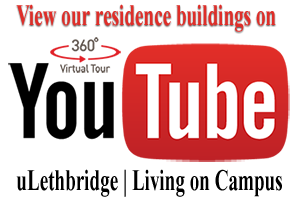 Housing & Dining
Piikani House is reserved for students coming directly from High School or students who have taken time off after high school but do not have any post-secondary credits.
New University Students living in University Hall, Kainai House, or Piikani House are automatically enrolled in a minimum Commuter Residence Dining plan, with no option to "opt out." This is a "room and board" program.
See Residence Dining Plan details
Eligibility to live on campus
Students must be enrolled in full-time studies at all times (9 credits or more per term).
Due to high demand, we are UNABLE to guarantee rooms to all applicants.
Aperture Park
All bedrooms in Aperture Park are single occupancy.
See Full Campus Map
See Room Rates
Barbecue
A barbecue is located on the patio of Piikani House and is available for resident use. Please contact your RA for access.