Aperture Park
Residence Village units are reserved for Continuing | Transfer | Mature Students in their 3rd and 4th year of study.
All bedrooms in Aperture Park are single occupancy.
Note: Crawlspace in Residence Village units are unavailable to residents.
Eligibility to live on campus
Students must be enrolled in full-time studies at all times (9 credits or more per term).
Due to high demand, we are UNABLE to guarantee rooms to all applicants.
Residence Village Townhomes

Click here for a Virtual Residence Tour

Click here for room photos and floor plans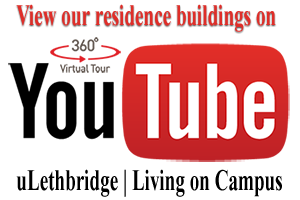 See Full Campus Map
Each Residence Village 4 bedroom townhome unit includes 2 washrooms.
See Room Rates
Barbeque
Residents who live in Residence Village cannot use personal barbecues but are able to take advantage of the Piikani House and Paterson Centre barbeques. Please contact your RA for access.