Types of Parking
Student Parking
Most students with motor vehicles prefer to purchase a parking permit on a semester or 8 month basis. If you plan to attend classes through the summer, as well as the fall and spring semesters, you may want to consider an annual permit.
Students have the option of purchasing their permit at the Cash Office, or reserving a permit on-line. The Cash Office accepts cash or debit card only. Students using the on-line service may apply the charge for their permit to their student account or to a credit card.
Bicycle Parking
The University encourages the use of bicycles as an economical and environmentally sound means of transportation. Bike racks are provided throughout campus.  Bikes may not be locked to stairwells, trees, lamp posts, or other structures aside from the designated racks. Bikes are not permitted in buildings, tunnels or on the Athletic Track. The owner is solely responsible for his or her bicycle. Security may move or impound any bicycle that is not proper stored. Abandoned bicycles are tagged at the end of each semester and if not removed within three days, they will be removed from the bicycle rack.
Motorcycle Parking
Motorcycles parking within the Motorcycle designated areas are required to purchase a campus Motorcycle parking permit. Designated areas are provided in Lots C, O, and N only.

Motorcycles may be parked in any permit area, provided the owner of the motorcycle has a valid university permit for that lot. The motorcycle license plate must be registered with Campus Mobility Services.  Motorcycles not registered with Campus Mobility Services will be ticketed and/or towed.

Motorcycles parked in Pay and Display or at meters are subject to the posted parking fees.

Motorized scooters are subject to the same regulations as motorcycles.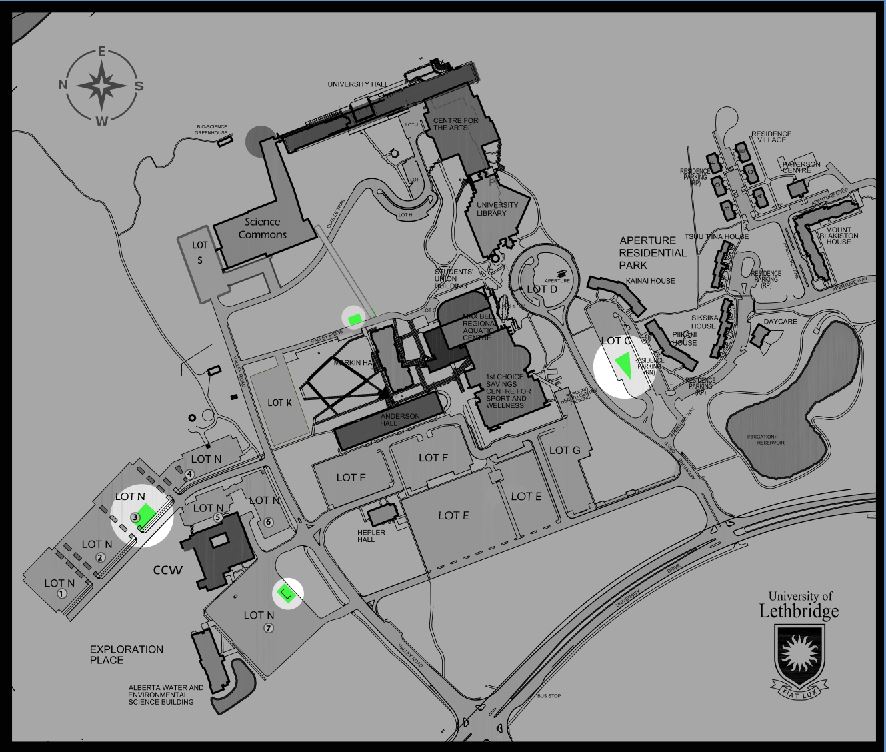 Residence Parking
Students living in residence will apply for a parking permit during thier Check-in through Housing Services. If a student missed the Check-in dates they may purchase a parking permit through Campus Mobility Services by emailing parking@uleth.ca.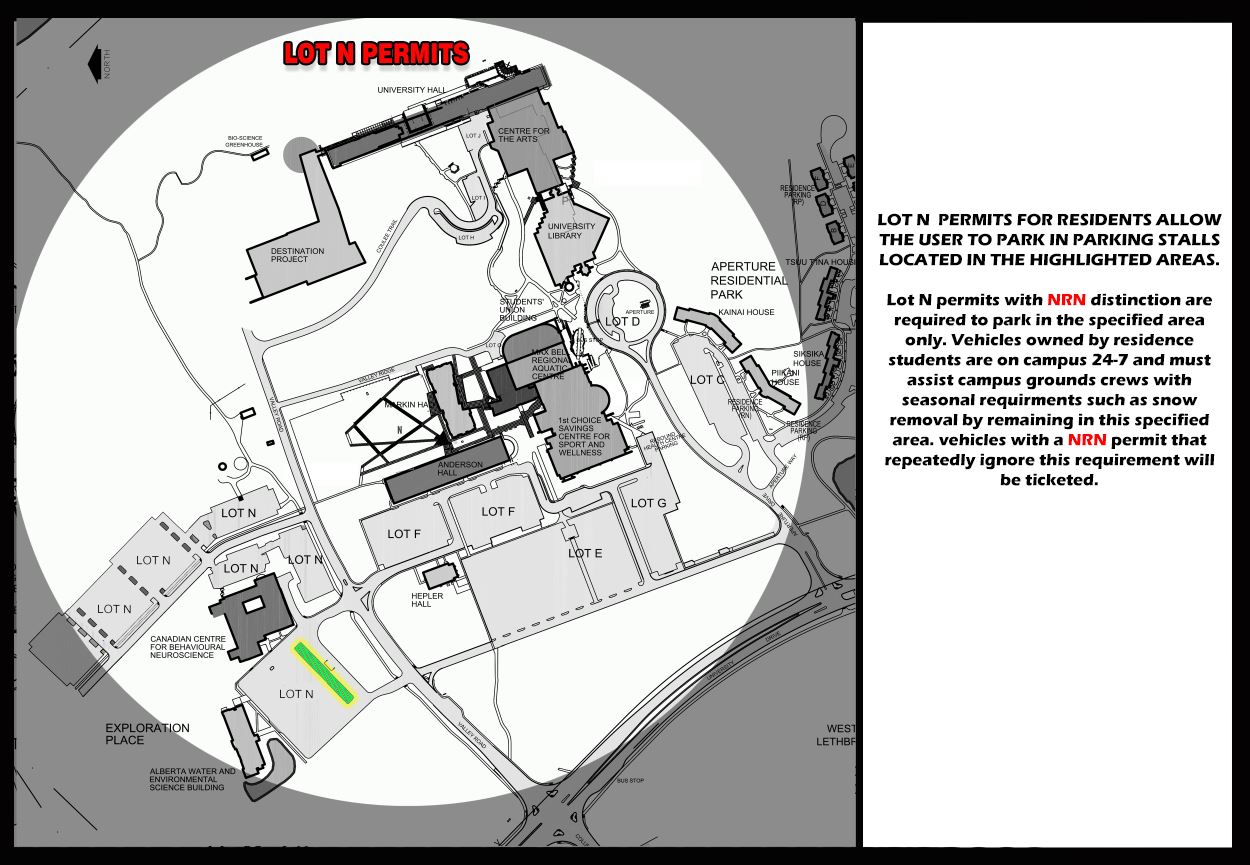 Faculty and Staff Parking
Faculty and staff may purchase a general parking permit in any available permit parking lot on campus, except those areas reserved for resident students. Employees have the option of purchasing their permit through payroll deduction. Faculty and staff may apply to purchase a permit for the special parking areas. 
An annual permit is the best value.
Visitor and Short Term Parking
Visitor and short term parking is provided in various parking lots around campus. Parking is provided in Pay and Display permit parking areas.

Customers may purchase pay and display permits using coins, credit cards or via the Honkmobile app. Depending on which lot is accessed parking time periods can vary from 1 hour to all day. Pay and display parking is available in the following lots.
 
Lot C-1 hour minimum-4 hour maximum
Lot D-1 hour minimum-1 hour maximum
Lot G/E and Lot S -1 hour minimum-2 hour maximum
Lot H-1 hour minimum-1 hour maximum
Lot N-1 hour minimum - 8 hour maximum

Pay and display parking is allowed in areas marked with blue stall lines and blue "Visitor Parking" signs.  The exemption to this is Lot G which is a blended lot for both pay and park and Sport & Recreation permits.  

Hours of operation for each Pay and display parking area is posted in each lot.  

Rates are posted on each dispenser.

Be sure to park in the lot adjacent to the dispensor a permit was purchased.
Disability Parking 
Disability parking requires the display of a valid University of Lethbridge permit and a Provincial Disability placard together. This also includes Disability placards used in combination with permits from Sport and Rec, or issued digital dash permits. Once you have acquired a disability placard you can contact Campus Mobiity Services to arrange for a Disability labelled University of Lethbridg parking permit.