HISTORY. CULTURE. RESILIENCE.
Welcome to the Department of Indigenous Studies
The World Council of Indigenous Peoples define Indigenous peoples as "people, living in countries which have populations composed of differing ethnic or racial groups, who are descendants of the earliest populations living in the area and who do not as a group control the national government of the countries within which they live." ​
Indigenous Studies at the University of Lethbridge is dedicated to community-engaged scholarship, and research of the priorities and aspirations of Indigenous peoples in Canada and throughout the world. Within the department, Indigenous and non-Indigenous students have the opportunity to learn and think about Indigenous knowledges in creative, transformative and critical ways. The department offers courses that engender a rigorous and respectful understanding of Indigenous peoples' languages, knowledges, cultures, histories, politics, arts, intellectual traditions, and research methodologies.
Fall 2020 Course offering - CREE 2210 Structure of the Plains Cree Language
Fall 2020 - Tuesday/Thursday 10:30-11:45am
Plains Cree, a member of the Algonquian (Algic) language family, is spoken across large parts of present-day Alberta and Saskatchewan. Plains Cree is a polysynthetic language which can make the structure of words, especially verbs, appear quite complicated to the learner.
In this course, students will develop analytical skills through which grammatical complexity can be approached in a systematic manner.
The course will be especially useful to learners and teachers of Plains Cree by revealing the inherent logic and systematicity in its grammatical structure.
Students interested in linguistics will find in Plains Cree the opportunity to study a well-described polysynthetic language and gain familiarity with the technical literature in this field.
The textbook for this course is Meet Cree: A Guide to the Cree Language, by H. Christoph Wolfart and Janet Carroll. The textbook is freely available in digital format.
University officially dedicates Carola (Napiakii) Calf Robe Elders and Ceremony Room
The University of Lethbridge has renamed its Elders Room, dedicating the space as the Carolla Calf Robe Elders and Ceremony Room at a ceremonial event in University Hall.
Carolla (Napiakii) Calf Robe was an Elder in Residence at the University for 11 years until her untimely passing in May 2019. As an Iniskim Elder, Calf Robe would spend time on campus offering support and guidance to the campus community.
"Carolla Calf Robe was a beloved and cherished Elder who selflessly served the University of Lethbridge community, coming in twice a month, September through April, each year," says Andrea Amelinckx, Chair of the Dhillon School of Business – Indigenous Governance & Business Management Program. "She also welcomed U of L community outreach when she was not on campus, always ready to provide support and traditional counsel to those in need."
Open statement in support of the Wet'suwet'en
The Department of Indigenous Studies at the University of Lethbridge recognizes that we sit in the original and enduring Niitsitapi (Blackfoot) territorial homelands. We acknowledge the role that western educational approaches and institutions have played in the dispossession and genocide of Indigenous peoples here and around the world. We affirm our commitment to using our knowledge and privilege to offer solidarity and support to the empowerment of all Indigenous people, communities, and environments that reside locally and globally. 
In the spirit of that commitment, we, the undersigned faculty members, lend our voices to the chorus of those in support of the Wet'suwet'en people, their clan governance systems, and hereditary chiefs, while also condemning the actions of the Canadian government for violently interfering on this territory and with the bodies of those defending the land and its people.
These actions by the Canadian government and RCMP in favour of Coastal Gas Link's proposed pipeline are in direct violation of the Supreme Court of Canada, in Delgamuukw & Gisday wa, rulings which upheld the fact that Aboriginal Rights to traditionally occupied, unceded lands in British Columbia have not been extinguished and that provincial laws cannot extinguish Aboriginal Rights. As such, these actions are also in direct violation of Article 10 of the UN Declaration on the Rights of Indigenous Peoples, which states: Indigenous peoples shall not be forcibly removed from their lands or territories.
We call for the withdrawal of the RCMP from Wet'suwet'en territory, and support the right of the Wet'suwet'en people to continue in their actions to protect the lands, waters, and futures of their people. We acknowledge they do this as well for all of us, and creation. We also call on other departments and institutions to join in condemning this state violence against Indigenous nations.
Inge Genee, Professor & Chair of Indigenous Studies
Michelle Hogue, Associate Professor, Coordinator, Indigenous Student Success Cohort
Paul McKenzie-Jones, Assistant Professor
Henrie Beaulieu, Assistant Professor
Conor Snoek, Assistant Professor
Career Bridge | Co-operative Education & Applied Studies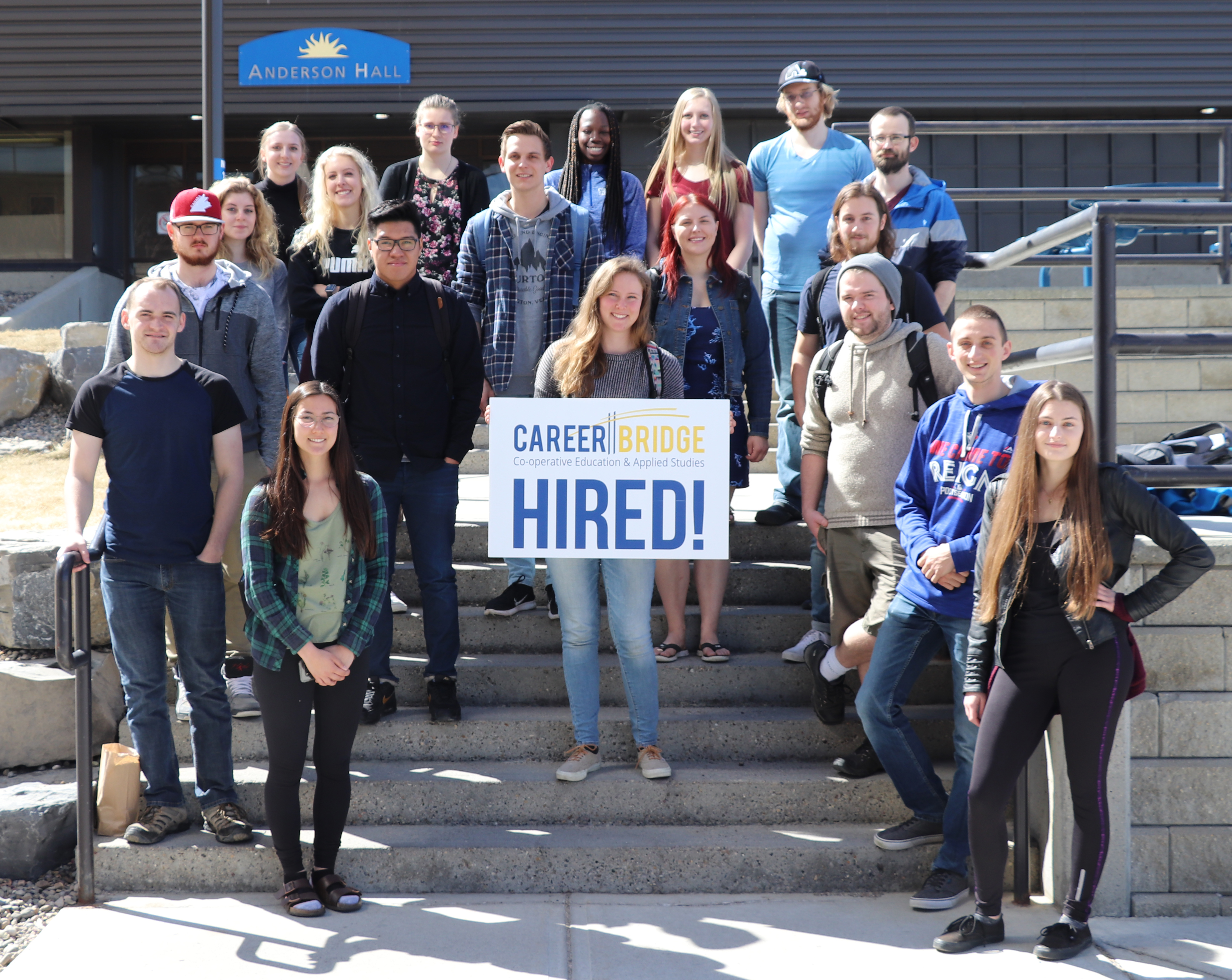 Put Your Knowledge to Work 
Whether you're looking for a more in-depth learning experience by assisting with research projects on campus or by testing your knowledge in a real-life work setting, we can help! The programs available in the Career Bridge office will provide you with a solid foundation for further studies and an excellent framework for a challenging and rewarding career — whatever direction you decide to go. Explore career options, participate in research and develop skills that complement your degree.