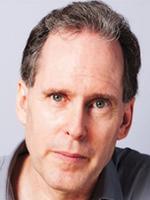 Dr. Robert Morrison (BASc (BA) '83)
2013 Distinguished Alumnus of the Year
Born and raised in Lethbridge, Dr. Robert J. H. Morrison began his post-secondary career at the University of Lethbridge. His passion for literature was ignited in a first-year English class and Morrison earned a Bachelor of Arts in English in 1983 before pursuing a Master of Philosophy at the University of Oxford, which he completed in 1987.
Following graduation from Oxford, Morrison came back to Lethbridge and began his teaching career at the U of L. He taught full time in the Department of English in 1987-88, and then returned to the UK to pursue a Doctor of Philosophy at the University of Edinburgh. Having an interest in Romantic literature that dated back to his days as an undergraduate student, Morrison's doctoral research examined the life and work of famed English essayist Thomas De Quincey.
After completing his PhD in 1991, Morrison taught briefly in the UK before returning to Canada. Currently a full professor in the Department of English at Queen`s University, Morrison's research continues to focus on 19th century English literature. His clear and thought-provoking approach to his subject matter has earned him international praise and he is often quoted as an expert in his field, particularly as a critic of De Quincey. Morrison's book, The English Opium-Eater: A Biography of Thomas De Quincey, published in 2009, was a finalist for the James Tait Black Memorial Prize for Biography, Britain's oldest literary award, and is recognized as the comprehensive source on the life and work of De Quincey.
Morrison's impassioned approach to his subject matter carries forward into the classroom, generating energy and enthusiasm in his students. His strength as a teacher has been recognized with numerous teaching awards, including the Ontario Undergraduate Student Alliance Teaching Award and the Frank Knox Award for Excellence in Teaching, which Morrison has won twice.