Program components
Coursework
Practicum
Project (pending ministerial change to Professional Portfolio)
Description
Prepare to be Canadian Certified Counsellor or Registered Psychologist in a ULethbridge Master of Counselling cohort
Watch on-demand Counselling program webinar
In this program you will:
be part of a diverse, distributed learning community

receive a quality education through a blend of online courses and face-to-face components (summer institutes and practicum seminars)

experience supervised practice in counselling psychology settings

benefit from a personal and supportive learning environment

study with experienced faculty and practicing counsellors
The 12-course Master of Counselling program is completed over three years in a blended delivery format. Summer term includes an online portion, as well as a two-week face-to-face component in July. Fall and spring courses are offered online. On-campus accommodation is available.
While the program is designed to accommodate working professionals, students are encouraged to limit other obligations during the time frame of the program. Many students reduce or adjust their hours of work while engaged in their practica.
International students: More than 50% of the courses in this program follow an online delivery format. Please be advised that due to the blended nature of this program, graduates will not be eligible to apply for a post-graduation work permit after completing this program.
Program Schedule Counselling Programs FAQ 
Related Program: The Faculty of Education also offers a Master of Education (Counselling Psychology) program, with on-campus courses in the first year and a practicum in the second year. A background in teaching is not required.
---
In case of discrepancies between this page and the Graduate Studies Calendar and Course Catalogue, the Graduate Studies Calendar and Course Catalogue shall prevail.
Applicants will meet the following minimum requirements to be considered for admission:
Hold a baccalaureate degree (i.e. undergraduate degree) from a recognized degree-granting institution, in the discipline of interest or in a closely cognate discipline.
Minimum grade point average (GPA) of 3.00 in the terms containing the last 20 graded university courses (60.0 credit hours).
Breadth of undergraduate courses in counselling, educational psychology or psychology. Particular emphasis is paid to courses in human development, learning, personality, psychological disorders (abnormal psychology), and counseling and/or interpersonal skills.
Approximately two years of work experience in a counselling or related setting. Volunteer experience in counselling settings is also desirable. 
Demonstrate English language proficiency (ELP) for graduate students.
See here for information regarding international graduate-level admission requirements.
Step 1: Prepare Supporting Documents
Before you begin an application, review the requirements for your supporting documents below. If additional documentation is required, the Office of Graduate Studies and Research in Education will contact you.​
Step 2: Submit Online Application by Deadline
Submit your complete application by midnight (MST/MDT) on the deadline date.
Step 3: Arrange for Official Documents
Official documents (e.g., transcripts, English language proficiency test scores) are required prior to course registration.
Note: Applicants who have attended or are currently attending an institution participating in ApplyAlberta do not need to arrange for official transcripts to be sent to uLethbridge from the issuing institution. A list of participating institutions is available at www.applyalberta.ca.
Step 4: Admission Interview
The selection committee reviews applications. Applicants selected for consideration may be invited to a scheduled admission interview. To accommodate applicants from a greater distance these interviews may be conducted online.
Step 5: Admission Decision
The selection committee makes a recommendation on admission to the program committee. You will be notified of your official admission status by the Registrar's Office no later than April 1.
For more details please see the Graduate Studies Calendar and Course Catalogue.
The following criteria are used in the selection process:
Grade point average
Relevancy of undergraduate degree
Breadth of undergraduate courses
References
Relevant work and/or volunteer experience
Results of interview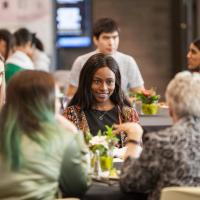 I wanted a program with small class sizes that also allowed for me to have the freedom of not being in class every single day. The Master of Counselling program was honestly the perfect option. I think this program requires students who are ready to take the driver seat in their education. If that sounds like you, the Master of Counselling program would be a great fit.
Iso Ogumbor, MC student