Length of program
Designed to be completed in 24 months
Related programs
Program description
The Master of Health Services Management (MHSM) is jointly offered by the Dhillon School of Business and the Faculty of Health Sciences. Development of applied research, critical thinking and decision-making skills is embedded throughout the program, culminating with application in an integrated experience point project.
MHSM is a cohort-based, part-time program that is offered at the Calgary campus of the University of Lethbridge. The program is delivered in a compressed format using a combination of blended learning techniques, distance delivery and residential (face-to-face) sessions. The delivery model allows students to attend graduate school while continuing to work. This is a particularly important feature for students who must maintain practice credentials.
A Graduate Certificate in Health Services Management (GCHSM) is available for students who wish to increase their knowledge level but may be unable to, or are cautious about, committing to a complete master's degree. A student who successfully completes the graduate certificate will receive course credit towards the master's degree, making it easy to seamlessly ladder continuing education and professional development goals.​
Program ScheduleFaculty and Student Stories
The program prepares students to be independent, strategic thinkers and collaborative colleagues. While the students' knowledge and skillsets will be shaped within the context of health care, the learning outcomes will be transferable. More specifically, students will:
Understand the context and complexity of health services and health management in the Canadian healthcare system.
Develop interdisciplinary, integrated knowledge of, and experience in, the management of health services across five modules: Design; Financial Structure; Leading and Bridging; Political Environment; and Conceptualization.
Develop foundational knowledge of the functional management areas of public and private health care environments.
Become effective managers of interdisciplinary environments in the health care sector.
Acquire enhanced meta-cognitive skills in numeracy, systems thinking, analytic thinking, critical thinking, synthesis, and decision-making.
Acquire effective team building and team cohesion skills.
Develop foundational knowledge of a variety of health care systems outside Canada.
Develop knowledge and acquire competencies in applied research and decision-making.
Develop research skills to diagnose current challenges in a health care organization and construct a potential solution.
Organize and pursue an integrated project in a managerial setting in a health care organization.
Write and present an applied project to an acceptable scholarly level.
International Applicants
: Due to the part-time nature of this program, please note that graduates will not be eligible to apply for a 
post-graduation work permit
 after completing this program. 
---
In case of discrepancies between this page and the Graduate Studies Calendar and Course Catalogue, the Graduate Studies Calendar and Course Catalogue shall prevail.
Career pathways
The overarching objective of the MHSM program is to prepare individuals to function effectively as managers and administrators in a wide range of public and private health care environments. Embedded in the program are global learning objectives which include developing and enhancing:
Interdisciplinary knowledge
Advanced numeracy skills
Systems thinking
Advanced critical thinking skills
Advanced analytic and decision-making skills
Global mindset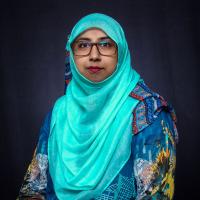 Health service careers are growing at a fast pace in North America. This program prepares you for a variety of career options like ambulatory and clinic management, service designing, quality management, patient safety and insurance and cater to some of the highest paying career options. Students who want to be a vital part of the team behind facility operations and functions should definitely enrol in the program. Health Services Management at ULethbridge is fully equipped with intellectual faculty, modern teaching methods, and a warm, welcoming and accessible university family."

~ Dr. Sabahat Nazim, Master of Health Services Management student