Nominate Your Colleagues
The President's Award for Service Excellence is awarded annually to University of Lethbridge employees in recognition of the provision of exceptional service to the University of Lethbridge and members of the University community. Typically, one award is given to an AUPE/ESS employee and one award is given to an APO/Executive Director employee. An additional Team award can also be considered through the nomination and selection process. Award recipients will be honored at the annual Long Service Awards and Retirement Recognition Ceremony.

President's Award for Service Excellence recipients will receive:
- A certificate of recognition for the employee or each team member.
- A monetary award of $1000.00 for the employee or team to be deposited into a separate professional supplement account for training or other items covered under the professional supplement program and used within the professional supplement program established guidelines.
Guidelines for nominations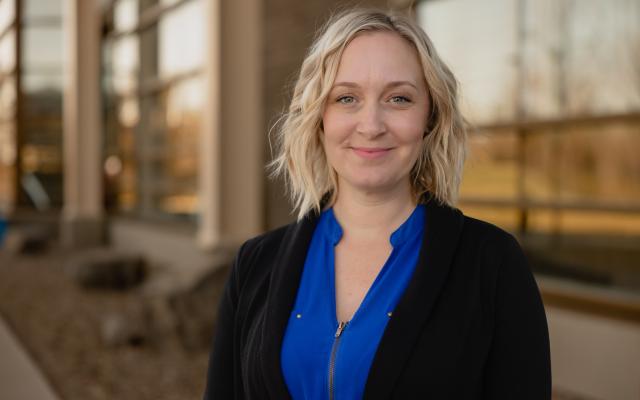 Crystal Volk
Crystal is an integral part of the Student Affairs team who's always willing to lend a hand and is highly organized, proactive, energetic, enthusiastic and unfailingly reliable
Cathy Kanashiro
A true resource for the University, Cathy takes her duties seriously and always has its best interests in mind. She puts the needs of the University first and provides experienced advice.
Communications, Marketing, and Government Relations
This team brings together communications, public relations, marketing, graphic designers, digital and government relations professionals, and exemplifies the phrase, "we are stronger together."
---
Recipients 2003 - 2023
| | |
| --- | --- |
| 2003 | Debi Sandul (APO) |
| 2004 | Sharon Stevenson-Ferarri (AUPE), Terry Kirkvold (APO) |
| 2005 | Catherine Ross (AUPE), Peter Haney (APO) |
| 2006 | Penny Secretan (AUPE), Carrie Takeyasu (APO) |
| 2007 | Carl Budney (AUPE) |
| 2008 | Teresa Heyburn & Lynn Hopkins (AUPE Team), Jane Allan (APO) |
| 2009 | Naomi Cramer (AUPE), Charlene Janes (APO) |
| 2010 | Cal Toth (APO), Kim Fowler (AUPE), Major Building Construction Team: Brian Sullivan, Bill Hudgins, Jason Baranec, Jason Federkeil, Will Tietz, Dan Sullivan, Jim Vanderzee, Rick Baceda and Al Mueller (TEAM) |
| 2011 | Jamie Chinn (APO), Calgary Campus Administrative Team (AUPE): Kelly Reid, Dana Corbin, Kristin Galicia, Ghazia Kirn |
| 2012 | Kathleen Schrage (APO) & Linda Sebastian (AUPE) |
| 2013 | Barbara Williams (APO), Barbara Hodgson (AUPE), Printing Services Team: Greg Martin, Tyler Hayward, Fiona Randle, Kim Selk, Judy Westcott, Murielle Guitard, Diane Layng, and Jeanette Leusink (TEAM) |
| 2014 | Steve Craig (APO), Margaret Cook (AUPE), Conference and Event Services Team: Erin Crane and Melissa Wiebe (TEAM) |
| 2015 | Isabelle Gauthier (APO/ESS), John Kometz (AUPE), Dean's Office Arts & Science Admin Team: Linda Gilbert, ChiChi Cameron and Kim Skura. (TEAM) |
| 2016 | Aaron Tamayose (APO/ESS), Jadranka Smiljanec (AUPE), Rosemary Howard (AUPE), Teaching Centre Team: Jill Payant, Bernie Wirzba, Victoria Holec, John Kometz, Alyssa Di Rocco, Tyler Heaton, Brad Reamsbottom, Glenda Martens, Todd Doucette, Doug Orr, Jeff Meadows and Dave Hinger (TEAM) |
| 2017 | Heather Rowland (APO) & Bev Garnett (AUPE) |
| 2018 | Nancy Pastoor (APO), Leanne Wehlage-Ellis (AUPE) & Caretaking (TEAM) |
| 2019 | Jon Oxley (APO), Chris Morris (AUPE) & Institutional Analysis Team: Mandy Moser, Darlene Unrau, Jon Kozub, James Croil (TEAM) |
| 2020 | Catharine Reader (APO), Ron Schreiber (AUPE) |
| 2021 | Jeff Meadows (APO), Josh Lindemann (AUPE) & Animal Care Services Team: Isabelle Gauthier, Karen Dow-Cazal, Moira Holley, James Cazal, Carla Navratil, Erin Falkenberg, Holly Shepherd, Shamsuddin Mamun, Molly Tilley, Eric Stock , Lauren Zink (TEAM) |
| 2022 | Kali McKay (APO), Rebecca Gray (AUPE) & Faculty of Education's Student Program Services and Field Experiences: Nicole Spence, Jaime Iwaasa, Kyra Svrcek, Kelly Vaselenak, Suzanne Atkinson, Brenda Bell (TEAM) |
| 2023 | Cathy Kanashiro (APO), Crystal Volk (AUPE) & Communications, Marketing, and Government Relations (TEAM) |