Sources for finding literature websites and professional reviews on children's and young adult literature. These tools can be helpful for choosing and evaluating literature.
Literature Resources for Teachers
Includes audio book readings, author interviews, author programs and websites, book guides, booklists, and book Awards. Provincial access funded by The ALberta LIbrary (Lois Hole Digital Resources Grant).
The Canadian Children's Book Centre
Includes book news, Canadian book awards, author and illustrator links, children's book publishers, and "Our Choice" book lists.
Open-Access Canadian Reviewing Sources
CM: Canadian Review of Materials
"An electronic reviewing journal which reviews Canadiana of interest to children and young adults, including publications produced in Canada, or published elsewhere but of special interest or significance to Canada." It also contains author profiles.​
Full text of most reviews is online. If the site is hard to search, do a Google using the format [title] quill and quire.
Access the Curriculum Laboratory Catalogue here.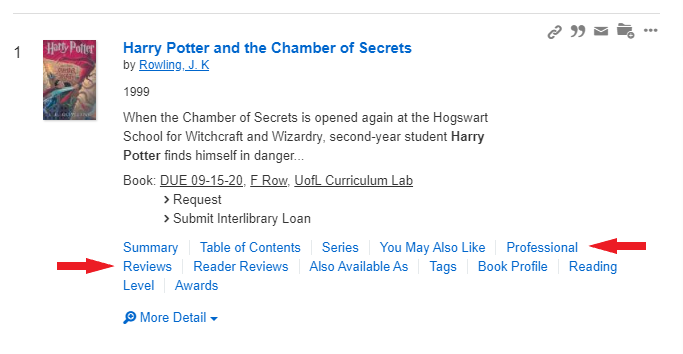 Written by professionals including teachers, librarians and scholars.
Length varies from several lines to several paragraphs.
Usually offer a brief summary of the book as well as critical thoughts about how it will be used and received by readers.
Include Fiction and Non-Fiction titles.
Example: At your T.A.'s suggestion, you've picked a children's book on bullying to share with your grade two class. You love the story, but also have doubts about whether it is age-appropriate or uses overly harsh language.
Reading several published reviews on the book will help you judge its

appropriateness and appeal.

Reviews will generally discuss any sensitive or potentially problematic material.
A glowing review can give you confidence that you are truly sharing something of

value with your students.

If the reviewer recommends the title, you can use this information to justify choices

to parents/ administrators as needed.
For information questions, general inquiries, or circulation questions, phone the Curriculum Laboratory Information Service Desk at 403-329-2288, or ask your question online.