Welcome to the University of Lethbridge Faculty of Education Legacy Magazine. Our stories profile achievements in teacher education – from within our faculty and from our partners in the field. We are proud of our teaching community, and hope you enjoy reading our stories about alumni, current students, faculty research, community partners, and more. Legacy strives to celebrate the community and profession of teaching.
Read our Legacy publications on ISSUU.
Subscribe to get the latest Legacy Magazine Online
We'll inform you when this publication is available, don't miss out!
---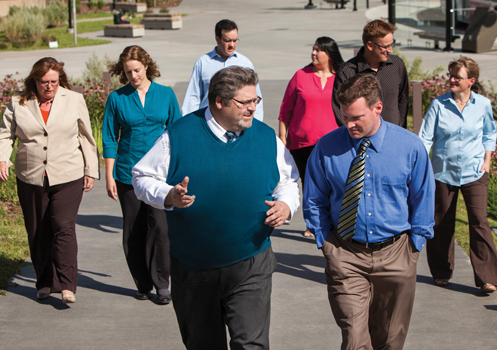 DEAN'S MESSAGE
There is no doubt that this past year has been unusual for the Faculty of Education. Nine of our colleagues chose to leave or retire from the faculty, sparking the single largest one time search for new faculty members in our nearly 50-year history. It has been a time of change, of renewal, and of inspiration.
---
PhD
The proven success of graduate studies led naturally to plans for a doctoral program. "There's a demand for PhDs in education," says Dr. Richard Butt, "particularly the type we hope to offer.

ALUMNI
​It is fitting that Richelle Marynowski left the University of Lethbridge as a student and returned as a professor. "This really is my home."

RESEARCH
Dr. Danny Balderson, a small town basketball star who led the University of Lethbridge Pronghorns to the national championships. Today he instills in pre-service teachers love of sports, and a philosophy that all children have the right to physical activity.

FIELD EXPERIENCE
​"Professional Semester III (PSIII) is the pinnacle experience in the Faculty of Education program. It is one of the components that makes the program so powerful," says Dr. John Poulsen, PSIII Coordinator.

---

ALUMNI

​At Winston Churchill High School in Lethbridge, Jared Heidinger (BSc/BEd '00) shepherds students through the complexities of Science by engaging them on their terms. "I love teaching. I can't imagine doing anything else. I like seeing kids learn new things and view the world differently than they did before."

---

GRADUATE STUDIES PROGRAM: CURRICULUM and ASSESSMENT‬
​"Traditionally, questions of curriculum and assessment have been separated. This program brings them together, forcing a dialogue that asks students to develop new theoretical models for both."

---

A COMMUNITY APPROACH: SUPPORTING EARLY LANGUAGE AND LITERACY
One of Dr. Noella Piquette's current research foci is prevention of reading difficulties. The University of Lethbridge Faculty of Education professor says,"There's trustworthy evidence setting out what it takes to teach children to read," she says. "By following it, can we have most children reading and writing comfortably?"

---

CHESS AS A POWERFUL TEACHING TOOL

Andy Davies (BFA/BEd '09) promotes chess as a tool for all grades, including Grade 1, the age he was when he began.

---

CANADIAN CURRICULUM, LITERACY, AND LIFE WRITING AS METISSAGE

In our multicultural, multi-lingual society, a growing number of educators are using life writing to build bridges of understanding between increasingly diverse populations.

---

DR. JANICE RAHN ON THE VALUE OF COLLABORATION IN ART RESEARCH AND EDUCATION

University of Lethbridge Faculty of Education professor, Dr. Janice Rahn researches as an artist and writer. She works between Education and the Fine Arts to question how art practice informs curriculum theory in project-based inquiry.

 
 
 
 

---