THE MAN. THE MYTH. THE LEGEND.
Dr. Dennis Connolly, 2019 Honouree
So much has already been said about Dr. Dennis Connolly, as he has received many accolades and honours throughout his time at the University of Lethbridge. So, what's left to be said? A lot! Just ask his daughter, Helen who provided us with this fascinating biography (below). This is a great read, and you may even learn a bit more about Dennis.
--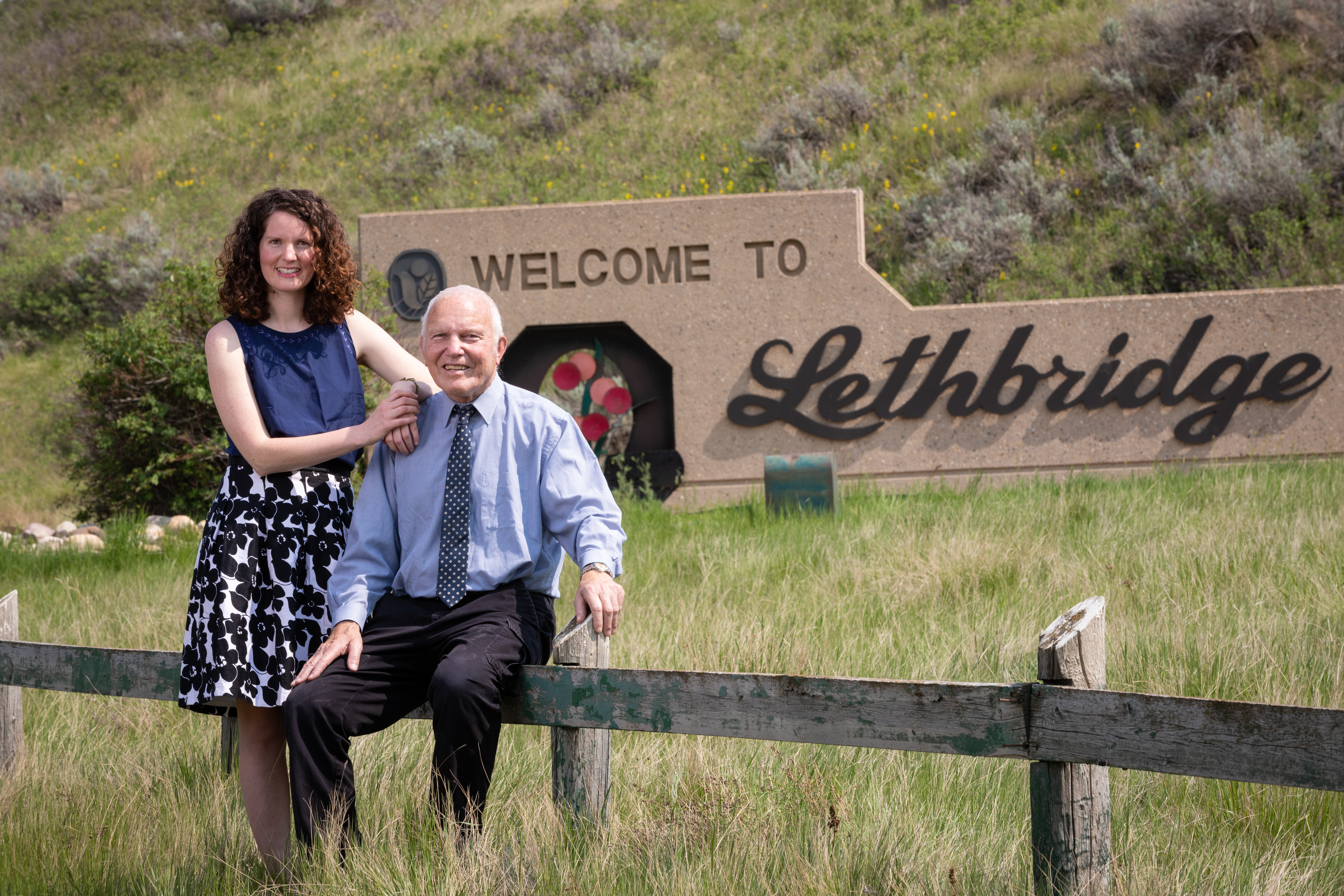 Drs. Dennis and Helen Connolly (daughter) pictured in front of one of our City of Lethbridge signs.
Dennis Connolly was born in 1944 in Wagga Wagga, a small town in southeastern Australia. His family moved to Sydney in 1947, but he continued to spend his summers in Wagga Wagga with his favourite uncle, Arthur Brain, who taught him the basics of mechanics, electrical work, and carpentry. This instilled in him a great work ethic and a love of making and fixing things. Dennis also gained experience in building during his teenage years, when he worked as a bricklayer's labourer on numerous building sites in Sydney. Over the past fifty years in Canada, he has completed many building projects, including a house extension and several farm buildings and barns.
When Dennis was young, his mother, Patricia Connolly, was a part-time model for a ladies magazine, and she and Dennis both modelled for Australian Women's Weekly for three years. Young Dennis sabotaged his budding modelling career at age five by taking the scissors to his lovely golden curls after a particularly uncomfortable photoshoot wearing woollen bathing trunks.
Dennis completed all his schooling in the Catholic system, first attending a primary school at Kogarah Convent (run by very strict nuns) and then moving to the Maris Brothers High School (also in Kogarah). Dennis excelled at school and was always encouraged by his mother, Patricia Connolly, to work hard and to succeed in his studies (she had hoped that he would become a medical doctor). He initially hated English and literature, but when he began classes with Brother Elgar, he developed a great passion for English literature which he maintains to this day. Long after graduating from the school and when Brother Elgar was in his nineties, Dennis visited him, and Brother Elgar gifted him with his favourite book of poetry, which Brother Elgar had annotated. This book continues to be one of Dennis's prized possessions. Among his favourite authors are Shakespeare, Patrick White, Graham Greene, H.E. Bates, and Alice Munro. In addition to his love of mathematics and English literature, Dennis also loves to read about history, particularly military history. Dennis's grandfather and father fought in WWI and WWII respectively for the Australian forces, and Dennis has always had a great appreciation for the unfathomable sacrifices made by men and women who served during these wars. Remembrance Day and the Australian Anzac Day have always been important dates for Dennis, and he has often marched in the Anzac Day Parade in Australia wearing his grandfather's military medals.  
Shortly after turning 17, Dennis began studying at Sydney University. In his first year, he studied Atomic Physics, with Professor Harry Messel (from Saskatchewan), but switched to pure mathematics in his second year. His most influential math professors were T.J. Room and Keith Bullen, whose books he still regularly consults. During his undergraduate degree, Dennis played varsity tennis and squash for the University, earning the prestigious Blue award as a top squash player.
After completing his undergraduate degree, Dennis was awarded a Commonwealth Scholarship, which allowed him to come to Canada and do a master's degree at the University of Western Ontario (now Western University) from 1966-1967. Dennis loved his time in Canada and joined the local ski patrol near London ON. To celebrate the completion of his master's degree, Dennis embarked on a road trip across North America. An Australian friend flew over to join him, and they drove a two-door convertible Sunbeam Alpine from London ON to New York City, Washington DC, Yellowstone National Park, and finally up to Lethbridge, where they were forced to stop on April 27, 1967, due to a huge snowstorm. The snow buried the car entirely, and all roads were closed. The storm dropped a record 175 cm (5' 9'') of snow and was so severe that an estimated 30,000 calves and cattle were killed.1 While waiting for the snow to melt, Dennis saw in the Lethbridge Herald that a new university was set to open in September and they were advertising for professors. Once the snow had cleared a little, Dennis walked over to the University (which was then at the College), and spoke to the head of the Math Department, Laurence Hoye, and put in an application. Dennis and his Australian friend then continued their road trip, driving through the mountains to Vancouver. Once there, Dennis checked in with the Post Office (this was, of course, long before the days of email or cell phones) and learned that he had been offered the position of Lecturer and that he was to start full time teaching in September of that year (1967). Dennis also learned that he had been offered a summer teaching position at the University of Thunder Bay to teach summer school. He sold his Sunbeam Alpine and flew to Thunder Bay. That summer, three students in his calculus class were nationally-ranked golfers (one later became the Canadian National Amateur Champion), and Dennis learned to golf from these students, spending many happy hours on the Thunder Bay Golf Course. 
When Dennis moved to Lethbridge to begin teaching in the fall of 1967, there was only one set of traffic lights in the town (the population was under 40,000 at the time). He initially stayed in a boarding house run by Mrs. Wuotila, who washed all the boarders' clothes and cooked wonderful meals that Dennis still remembers to this day. Dennis later bought a house of his own in the London Road neighbourhood, where he and his wife have lived ever since.
After working for the University of Lethbridge for two years, Dennis was given a study leave to complete a PhD. He began his studies at the University of York, England, under the supervision of Professor John Williamson. Dennis loved English University culture and became the president of the University Sports Association.  It was at York University that Dennis met his wife, Catherine (Kate) Thomson, who was studying history. They married in England in the summer of 1972. Kate and Dennis have two children, David and Helen Connolly, and an 18-month-old granddaughter, Rose Barrette Connolly, who is adored by the entire family. The eldest of four siblings, Dennis has always valued his time with his family, both here and in Australia, and has encouraged them to embrace the same values of hard work and academic excellence that he has embodied throughout his life and career.
After completing his PhD (in Fourier Analysis), Dennis moved back to Lethbridge with his wife Kate, and continued to teach at the U of L. He has taught over 36 different courses (a total of 225 classes over the past 50 years) in the Math Department to both undergraduates and graduates, teaching over 10,000 students. Dennis was a founding member of the Support Our Students (SOS) Campaign, and he always makes an effort to truly get know his students each semester; he has recently been awarded the Students' Union Teaching Excellence Award. Dennis has always been a huge supporter of University sports and fine arts. He attends almost every hockey, basketball, and rugby game (both men's and women's), and has gone to Trent ON and Halifax NS to cheer on our teams in the National Championships (Women's Rugby and Men's Basketball).  Dennis loves attending opera and always looks forward to the U of L Opera Workshops and Productions (often attending every single performance offered). Dennis has always created and maintained close relationships with colleagues at the U of L, and still regularly gets together with Laurence Hoye (who hired him in 1967) and other former colleagues who have long since retired.
In 1994, Dennis began work on a legal case, "British Department of Defence vs. Rev. L. Deverall," involving a statistical analysis of radiation poisoning of 20,000 servicemen and women who had been involved in the British Department of Defence's nuclear testing program near Maralinga, Australia. Dennis considers this to be his most important research. During the case, Dennis found errors in the defence's statistical analysis, which erroneously claimed that the high rates of unusual cancers and disease suffered by these men and women were not due to the nuclear testing. This allowed Deverall to win the case (one of the few to ever win against the British Department of Defence) and allowed for compensation to be gained for the thousands of servicemen and women who had suffered radiation poisoning.
In 2017, Dennis was extremely honoured to be given a Blackfoot name, Itiiomaahkaa, meaning "Long Journey." That year Dennis also received an honorary Doctorate of Law, from the University of Lethbridge, recognizing his fifty-year commitment to the University community. Dennis also received the University of Lethbridge Senate Volunteer Award in 2010.
Dennis has always loved the outdoors and learned to ski in Australia's Snowy Mountains. His love of skiing was an important factor in his decision to come to Canada for his Master's degree. During his time at the University of Sydney, Dennis embarked on a six-week canoe trip with three friends along the Snowy River in New South Wales, Australia. The friends he canoed with, and the people he met along the way, have remained life-long friends. Dennis has continued to spend time in nature and completed the Chilkoot Trail (a 33-mile walk from Skagway, AK to Lake Bennet, BC) at the age of 60. Dennis loved his time in the North and is hoping to return to the Yukon in the near future to canoe the Yukon River (Whitehorse to Dawson City).
---
The University of Lethbridge Faculty of Arts & Science was pleased to honour mathematics professor, Dr. Dennis Connolly at its 2nd Annual Wine & Dine: Arts & Science Scholarship Dinner. The dinner was held on Thursday, October 17, 2019, at the Sandman Signature Lethbridge Lodge.
Dennis is an exemplary scholar and educator whose dedication to teaching excellence has been experienced by over 10,000 students, across more than five decades. "While the location of where you build a life may be important, for me, it's really the work and the students that keep me coming back every semester. I enjoy seeing students progress through their studies and then where they end up after they've crossed the convocation stage," says Dennis. "I take a photo of each student on their first day in class and ask them to write a little summary about themselves. It helps me to learn more about them and that way it's easier when I'm marking papers because I think: 'David has done much better this time around or Emma is well on her way to graduate school with these marks!' It's much easier and more interesting to mark papers if you know a bit about the student."
An employee of the University of Lethbridge since 1967, Dennis Connolly's generosity and support extends throughout the University and the wider community. Also, as a lifetime advocate of the University's sports teams, an enthusiast of the arts and a generous volunteer, he is, quite simply, packed with school spirit. For all of these reasons, and more, Dennis is an obvious choice as our honouree for the 2nd Annual Wine & Dine: Arts & Science Scholarship Dinner.
"On behalf of the Faculty of Arts & Science, I am delighted by the opportunity to honour Dr. Dennis Connolly at this year's scholarship dinner," says Dr. Matthew Letts, acting dean of the Faculty of Arts & Science. "The most fortunate outcome of an unprecedented spring snowstorm that struck in April 1967 was to disrupt Dennis's North American road trip and cause him to take note of an advertisement for professors at a new university – the University of Lethbridge. Although one journey came to a halt, another began right here in Lethbridge. It has been a long road for Dr. Connolly, from his childhood in Australia to his studies in Canada and England and over 52 years of service to the University of Lethbridge thus far. It is fitting, therefore, that Dennis was recently honoured with the Blackfoot name Itiiomaahkaa, meaning 'Long Journey,' as well as an honorary Doctorate of Law from the University of Lethbridge."