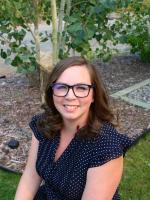 Regan Brooks completed her Bachelor of Music and Education from the University of Lethbridge where she studied voice (mezzo soprano) and was a member of the U of L singers. She has always been passionate about music and began at a very young age. Regan grew up studying voice, piano and percussion and sang in the Medicine Hat College Girls Choir. She is also an alumni of Up with People and had the amazing opportunity to travel internationally, performing a Broadway-style musical.
Regan has been teaching private voice lessons in Lethbridge for over 12 years and is passionate about instilling a love of singing and performing with her students.
Regan is also the artistic director for the award winning and nationally recognized, Ventus Women's Choir. She founded Ventus In 2015 as she wanted to create a vehicle for the many talented women in and among Lethbridge. Since its inception, Ventus continues to inspire audiences and advance in the choral scene. Ventus is now under the uLethbridge Music Conservatory umbrella and enjoys collaborating with the many talented artists and ensembles within and beyond. Such as, the Lethbridge Symphony, Cantrice Women's Ensemble, Chinook Chamber Singers, MHC Girls Choir, Vox Musica and Canadian Folk Artist Lizzy Hoyt.
Ventus has participated and placed in their local and provincial festivals, as well as the Rocky Mountain Music Festival in Banff and Choralfest in Calgary where they placed "Platinum". Ventus won first place in their category, in the National Music Festival in 2018. Most notably, Ventus received an honourable mention and were finalists in the CBC Radio Canadian National Choral Competition for Amateur Choirs 2019.
As an active musician in Lethbridge, Regan is currently a member of the Chinook Chamber Singers. She thoroughly enjoys performing the challenging choral repertoire among leading musicians in Lethbridge.
Regan is also a Learning Support teacher for the Lethbridge School Division where she continues to workshop and conduct local elementary school choirs.
Fees*:
30-Minute Lessons:  $120 (Monthly) or $960 (Lump Sum)
45-Minute Lessons: $180 (Monthly) or $1,440 (Lump Sum)
60 Minute Lessons: $240 (Monthly) or $1,920 (Lump Sum)
*The above lump sum ranges are based on 32 weeks of lessons over the course of September - May, but can be pro-rated for students starting late in the term.