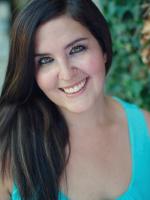 Soprano Lisa Mulgrew, born and raised in Lethbridge Alberta completed her Bachelor of Music from the University of Lethbridge in spring 2012. Lisa went on to complete her Masters of Literature and Performance in Music from the University of Western Ontario (2015) under the tutelage of Todd Wieczorek. During her time at Western, Lisa had the opportunity to play the Female Chorus in UWO Opera's 'The Rape of Lucretia' in November 2013 and was also a finalist in the Maritsa Brooke's Concerto competition, where had the great honour of singing Mahler's Rückert-Lieder with the UWO Orchestra April 2015. A performer at heart, Lisa has traveled to Europe where she sang Madama Butterfly with opera training program La Musica Lirica in Novafeltria Italy. Lisa is a roster singer for Cowtown Opera Company in Calgary Alberta, and was featured in the Cowtown Cabaret production of "Prison Divas" this past February; she is looking forward to joining them again in their 2017-18 season. Most recently, Lisa was selected as a semi-finalist for the esteemed Eckhardt-Gramatté National Music Competition in Brandon Manitoba, where she won 3rd place in May 2017. Lisa is looking forward to another year of teaching singers of all levels and interests, and welcomes new students for the year.
Fees*:
30-Minute Lessons:  $132 (Monthly) or $1,056 (Lump Sum)
45-Minute Lessons: $198 (Monthly) or $1,584 (Lump Sum)
60 Minute Lessons: $264 (Monthly) or $2,112 (Lump Sum)
*The above lump sum ranges are based on 32 weeks of lessons over the course of September - May, but can be pro-rated for students starting late in the term.