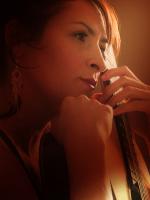 Iliana Matos graduated from the National School of Art in Havana where she studied with José Angel Pérez Puente. She earned a Bachelor of Music (Classical Guitar Performance) from the Superior Institute of Havana (where her teachers included Rey Guerra, Miguel Bonachea and Jesús Ortega), and received a Special Diploma given to the most outstanding graduate for her artistic creative work. She continued her studies with Gabriel Estarellas at the Royal Music Conservatory of Madrid and graduated with a Master of Music Degree from de Extremadura University under Ricardo Gallén. As a student she participated in master classes with Leo Brouwer, David Russell, Sharon Isbin, Costas Cotsiolis, Tania Chagnot, Paolo Paolini, Tomás Müller, Wolfgang Lendle, Carlos Bonell, Juan Carlos Rivera and Joaquín Clerch.
Iliana has won many prestigious awards, including first prizes in the Andrés Segovia in Palma de Mallorca, Luys Milán, and Manuel Ponce International Guitar Competitions. She made history by becoming the first woman to win the prestigious S.A.R. La Infanta Doña Cristina International Guitar Competition, and the only guitarist to win the special prize for Best Interpretation of Spanish Music in two consecutive years, 1995 and 1996.
With her love of contemporary music and desire to develop the guitar repertoire, Iliana Matos has premiered works by numerous composers, including Eduardo Morales, Tomás Marco, Zulema de la Cruz, Gabriel Estarellas, Flores Chaviano, Ileana Pérez, Madays Andino, Ñico Rojas, Yalil Guerra, Luis Mario Ochoa and Eduardo Martín. As well, she has performed extensively throughout Latin American, USA, Europe, Africa and the Middle East.