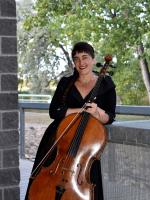 Calgary native, Christine Bootland began her studies at the Mount Royal College Academy of Music and completed a Bachelor of Music Performance degree at the University of British Columbia under the direction of Eric Wilson. She later participated in the Masters Program at the University of Toronto under the tutelage of Shauna Rolston.
Christine has been an active performer in various chamber ensembles and orchestras across Canada and was first prize winner in the CIBC National Chamber Music Festival Competition with the JEB quartet. She has studied with renowed artists Aldo Parisot, Janos Starker, Zara Nelsova, and Lawrence Lesser at the Banff School of Fine Arts and has performed with well-known classical musicians David Shifin, Andrew Dawes, Kai Glusteen and country artist Lyle Lovett. Christine is an active extra performer with both the Lethbridge and Red Deer Symphonies as well as the Calgary Philharmonic Orchestra. She has toured Europe, Asia, Africa and Australia as a member of the Armadillo String Quartet of Canada and enjoys doing educational outreach performance programs within the community.
Her philosophy is to help create future generations of music lovers of all styles whether they be professionals, amateurs or concert goers. Each student is unique and her goal is to help them develop their own individuality and personality in their playing. Christine is on the faculty at MHC as cello instructor, ensemble coach, and conductor and program coordinator for both the Community and Junior Orchestras since 2001 and in 2010 became the director of the MHC Summer Strings Camp. The University of Lethbridge Conservatory is Music is thrilled to have her join us for the 2011-2012 in Lethbridge where she teaches private cello lessons once per week.