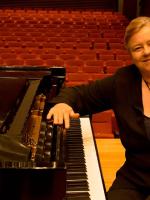 M.Mus., Michigan State University
B.Mus. piano performance, University of Lethbridge
Bente Hansen has been teaching music theory at the University of Lethbridge since 1997 - this is also the year she joined the Music Conservatory, teaching both piano and music theory. Bente is currently serving as the pianist for New West Theatre's musical reviews. She will be the Musical Director for the 2015 production of "Carrie - The Musical" at the University of Lethbridge. Bente is sought after as a performer, accompanist, teacher and clinician. She regularly accompanies a number of university students and enjoys visiting senior housing to play for the residents. This past summer, she spent time in Pasto, Colombia where she offered piano masterclasses at the Universidad de Nariño and gave a piano concerto at the Teatro de Javiariano.
Fees*:
30-Minute Lessons:  $120 (Monthly) or $960 (Lump Sum)
45-Minute Lessons: $180 (Monthly) or $1,440 (Lump Sum)
60 Minute Lessons: $240 (Monthly) or $1,920 (Lump Sum)
*The above lump sum ranges are based on 32 weeks of lessons over the course of September - May, but can be pro-rated for students starting late in the term.