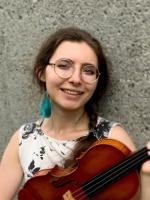 Alina started her musical journey in Moscow, Russia, in a family of two pianists. Taught in the Russian school until 12 years old, she moved to Vancouver, Canada, with her family, and enrolled at the Vancouver Academy of Music Bachelor's program at 14 years old. During her time at VAM, she studied with Rober Rozek, Andrew Dawes and Dale Barltrop, performed with New Westminster Symphony Orchestra and played in the Stradivari Ensemble, an elite music group led by Robert Rozek. She also participated in chamber music competitions, winning the National Music Festival held in Kelowna, as well as multiple scholarship awards at VAM.

After completing the VAM program, she then received a Masters in Music Performance from McGill University in Montreal, where she also was a concertmaster of Orchestre Philharmonique des Musiciens de Montréal. During her time there, she discovered her passion for instruments and taught herself gusli (baltic psaltery), cello, and guitar.

Alina has been teaching throughout her musical journey and has over 10 years of teaching experience. Throughout her career, she taught various age groups at the British Columbia Conservatory of Music, and the high-intensity Cecilia and Kevin Music Studio. Now, having moved to Lethbridge, she hopes to share her accumulated knowledge with students of all ages.