Will you be the next Teaching Fellow?

Teaching Fellow applications are due by the third Friday in January (January 17th)
A Light on Teaching magazine 2019-20 issue is available now!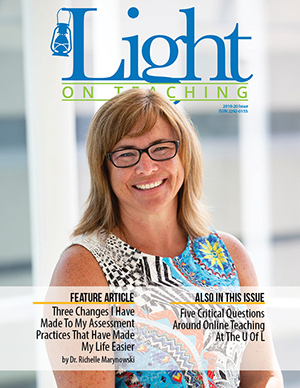 Click here to read the current issue on issuu.com
Click here to read in PDF format.
Do you need to book an exam with another institution? We can help with that.
Videos
Below we will feature our latest videos that we have produced. You can find more videos from our different series here.
ED Talks with Anne Dymond and Harold Jansen
What is Academic Dishonesty
If you want the latest articles, events, and opportunities from the Teaching Centre, please subscribe to our newsletter. You can do so by clicking here. 
You can read the October 2019 Newsletter online here.