Art Studio
Bachelor of Fine Arts - Art (Art Studio)
You have the opportunity to create, while developing technical expertise in various mediums. Explore a range of emerging and traditional art studio areas, which include drawing, digital fabrication, electronic art, installation and performance art, painting, photography, printmaking, sculpture, video and media art. This conceptually oriented contemporary art program allows you to draw from all your areas of study to create art.
As a senior student, develop your own artistic direction with support from an Art Studio professor of your choice, who works one-on-one with you. In addition, you have your own studio space, where you have the freedom to experiment.
Art History/Museum Studies courses help hone your critical thinking and writing skills, and provide a context for your emerging voice as an artist.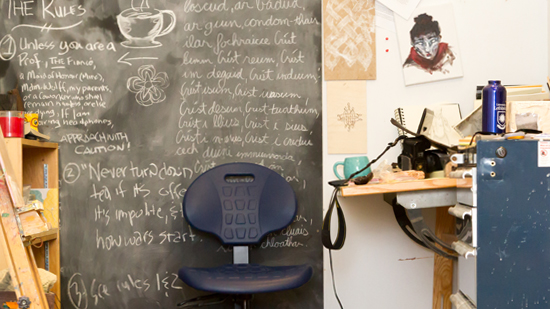 Facilities & Spaces
Metal shop with foundry, forge and plasma cutter

Individual studios for senior students

Modern woodshop, ceramic and plaster studios

Bronze and aluminum foundry

Digital fabrication lab includes 4-axis CNC router and 3D printer

Printmaking studios with Boss Laser Engraver

Digital media studio with 3D and large format printer

Photography & camera obscura studio with full wet darkroom

Painting and drawing studios

Exhibition, installation and experimental spaces
 

"I chose the U of L because it has a good conceptual art based program, ample studio space, small class sizes and well equipped studios. It has supportive professors and many awesome student-run initiatives including the Student Art Society, Mutt Magazine, and Niche Gallery. All of which provide opportunities for young artists to take another step towards self-motivated professional practices."

- William Austin

 
Post-Diploma
The Post-Diploma Bachelor of Fine Arts (Art) offers a perfect opportunity to immerse yourself in Art. Students with approved 2-year diplomas complete a minimum of 20 courses, including a minimum of 12 in Art and/or Art History/Museum Studies. Students with approved 3-year diplomas complete a minimum of 15 courses including a minimum of 8 in Art and/or Art History Museum Studies. The diploma is recognized as a block of transfer and each program is individually tailored based on the content of the diploma.
Application Info
Find more information on the Faculty of Fine Arts requirements for admissions:
Program Planning Guides
The program planning guides outline the required courses foryour specific degree and major, and provide a sample sequence of courses to help you plan.
Post-Diploma Bachelor of Fine Arts - Art (Two-year)
Post-Diploma Bachelor of Fine Arts - Art (Three-year)
FAQs
Find Answers to your questions
Student Success Stories