Fri, Sep 13, 2019

1:30 pm

to

3:30 pm
This event is from the archives of The Notice Board. The event has already taken place and the information contained in this post may no longer be relevant or accurate.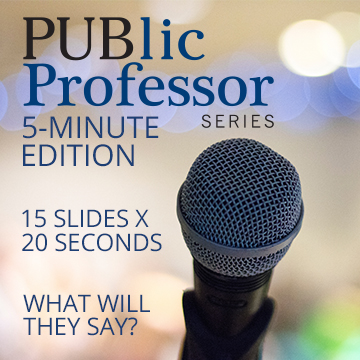 The University of Lethbridge, in partnership with Economic Development Lethbridge and Beakerhead Creative Society, is planning a community celebration to mark the official opening of its new Science and Academic Building – and everyone's invited. The two-day event will take place Sept. 13-14, 2019 and feature a host of interactive programs designed to showcase the spectacular 38,500 sq. metre building, celebrate ingenuity, science education, research and discovery.
We will kick off our 2019/20 PUBlic Professor Series season during this sensational event, with a special presentation of the PUBlic Professor Series: 5-Minute Edition.
Although professors could be labelled serious, scholarly types by day, the occasion of the SAB Grand Opening has given them a reason to have a little fun while still imparting their knowledge.
In celebration of the grand opening, the University of Lethbridge will bring together an assembly of influential and emerging researchers, our faculty members, for a fast and furious version of our very successful PUBlic Professor Series.
The PUBlic Professor Series: 5-minute Edition, is designed to showcase the diversity of research interests within the University in an entertaining format. Each professor will have five minutes and 15 PowerPoint slides to do a presentation on their research. The slides will automatically advance every 20 seconds, requiring the speaker to keep pace.
"After five minutes is over, I'm cutting them off," says Dr. Kevin McGeough (BA '96), a U of L geography professor and moderator of the event. "That makes it fun because there's a kind of panicked element to the presentation. It's especially fun for professors because we're not known for being concise in our comments. That lightning-fast approach makes it interesting for people to watch."
Check out the list of confirmed speakers!
D. Andrew Stewart, Music | Digital Musical Instruments and Their Sense Organs
Carly Adams, Kinesiology | Oral Histories, Sport, and (re)Imaging Community
Chris Hopkinson, Geography | The Eyes of ARTeMiS: Using Lasers to Watch Over our Ecosystems
David Logue, Psychology | Conversations Between Animals
Elizabeth Galway, English | Wonderlands, Neverlands, and Secret Gardens: The Importance of Place and Space in Children's Literature
Gerlinde Metz, Neuroscience | Our Ancestors' Ghosts: Transgenerational Trauma as a Determinant of Health and Disease
Igor Kovalchuk, Biological Sciences | Cannabis Sativa - Medicinal Applications
Jackie Rice, Computer Science | The Benefits and Risks of Artificial Intelligence
Locke Spencer, Physics & Astronomy | To the Infrared, and Beyond!
Louise Barrett, Psychology | Human/Nature
Mark Walton, Physics & Astronomy | Quantum Mechanics is Weirdest
Matthew Tata, Neuroscience | How to Talk to Your Robot: Using Cognitive Neuroscience to Make Robots That Can Hear
Michelle Hogue & Ira Provost, FNTP | Bridging Indigenous and Western Cultures and Science through Community Based Environmental Monitoring
Monique Giroux, Music | Sonic Sovereignty in the Age of Indigenization
Nehal Thakor, Chem/Biochem | Driving the Self-Destruction of Brain Tumours
Olga Kovalchuk, Biological Sciences | Medical Cannabis and Epigenetics of Health and Disease
Robbin Gibb, Neuroscience | Building Brains and Futures: One Connection at a Time
Roy Golsteyn, Biological Sciences | Flowers in our Pharmacy
Shawn Bubel, Archaeology | Highlights of Alberta Archaeology: 12,000 Years of Cultural Activity in 5 minutes!
Stacey Wetmore, Chem/Biochem | Unlocking the "Code": Using Computers to Understand the Chemistry in Us
Trushar Patel, Chem/Biochem | Deciphering the Communications Between Viral and Host Components
The details:
FREE. Everyone welcome. Seating is limited so arrive early.
Date: Friday, September 13, 2019
Time: 1:30 p.m. (start)
Location: Science Commons BMO Auditorium, Level 8 (SA8002)
Hosted by Dr. Kevin McGeough, Archaeology & Geography.
There will be a full two days of activities, so come early on Friday, grab some lunch and attend PUBlic Professor Series: 5-Minute Edition! Check out our Facebook page or the website for additional information.
Room or Area:
Science Comm Auditorium (SA8002)
FREE. Everyone welcome. Seating is limited so arrive early.
Contact:
Catharine Reader | catharine.reader@uleth.ca | (403) 382-7154