Tue, Nov 29, 2022

12:15 pm

to

1:00 pm
This event is from the archives of The Notice Board. The event has already taken place and the information contained in this post may no longer be relevant or accurate.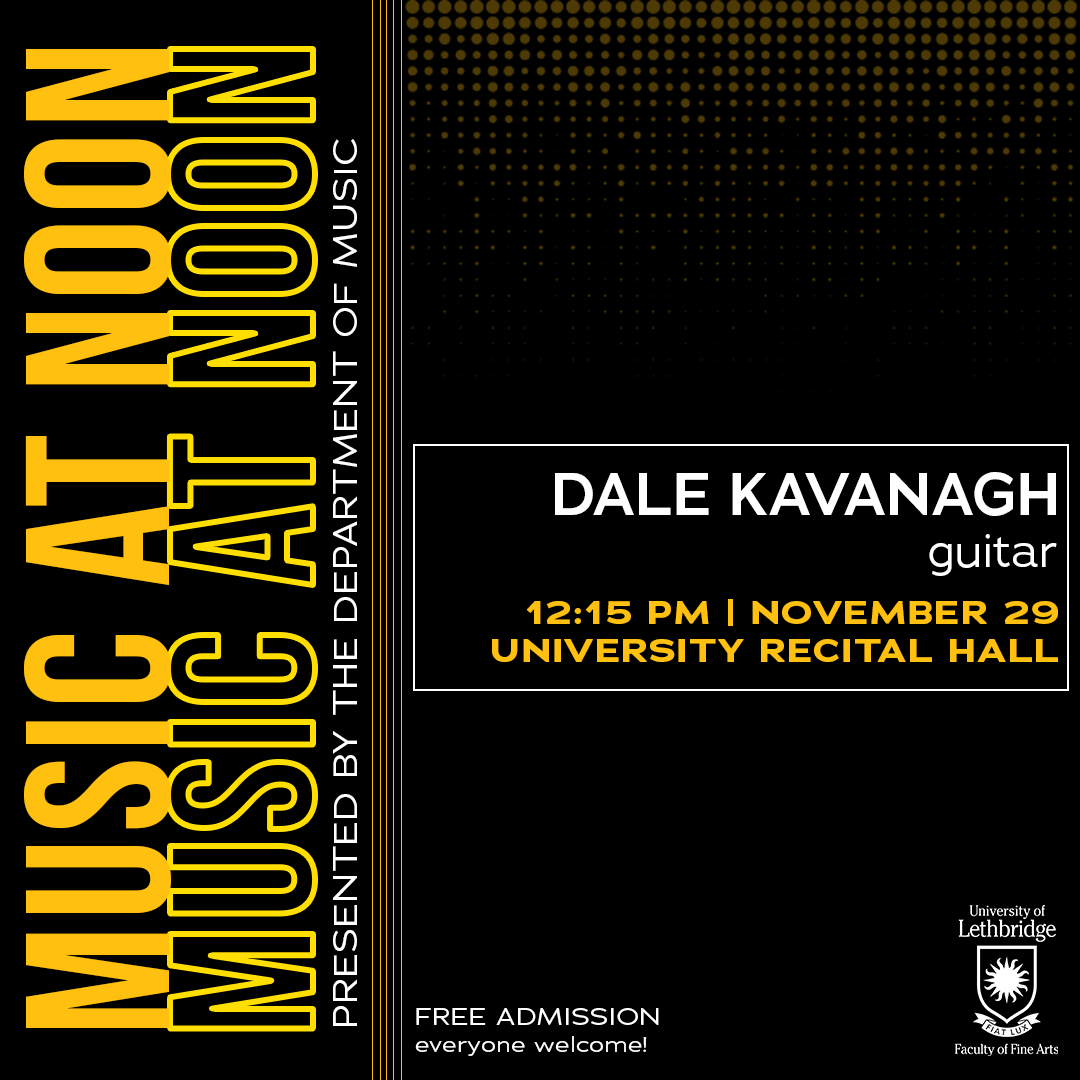 Music at Noon presents Dale Kavanagh
12:15 pm | November 29, 2022
University Recital Hall
Free admission, everyone welcome!
This concert features guitarist Dale Kavanagh.
Biography
Canadian-born Dale Kavanagh is one of the guitar world's most gifted interpreters. Between 1986 and 1988 Ms. Kavanagh was a top prize-winner in Spain's "Segovia Competition", Italy's "Gargnano Competition", Switzerland's "Neuchatel Competition" and First and Special Prize winner in Finland's "Scandinavian International Guitar Competition" . 
Dale Kavanagh performs internationally as a soloist and in the Amadeus Guitar Duo with German guitarist Thomas Kirchhoff and has given recitals in more than 70 countries. She is a regular recitalist and teacher in guitar and music festivals in Canada, Turkey, Poland, Italy, Greece, Germany, Holland, Sweden, Hungary, England, Argentina, Mexico, China and the United States and has given more than 1700 concerts around the world. 
Many composers have written works for Dale Kavanagh such as Roland Dyens, Carlo Domeniconi, Jaime M. Zenamon, Stephen Dodgson, Stephen Funk-Pearson, Bruce Shavers, Christian Jost, Martin Herchenröder, Stepan Rak and Harald Genzmer. 
Kavanagh is also a composer and has her works published with Chanterelle, Edition Margaux and Hubertus Nogatz Verlag. She has written works for the Giampaolo Bandini, Aniello Desiderio, Zoran Dukic, Jorge Caballero, Iliana Matos, ChromaDuo, Marlow International Youth competition and many more. 
Her 20 CDs have received superlative reviews in international magazines including Classical Guitar Magazine, Fanfare-Magazine, Fono-Forum, Hi-Fi-Vision, Gendai Guitar, Gitarre & Laute, La Cahir de la Guitare, Musikblatt, Staccato, Soundboard Magazine, Gitar och Luta and many others. 
Dale Kavanagh was a professor of guitar at the Musikhochschule, (University for Music) in Detmold/Germany from 1999- 2022. She also had a musician residency at Acadia University from 2003-2010 and was an exclusive artist with Hänssler Classic from 1999 to 2003. Dale is currently on faculty at the Talent Masters University in Brescia, Italy.
Since 2004 all her CDs are published with NAXOS International.
Free admission, everyone welcome!
Contact:
finearts | finearts@uleth.ca | ulethbridge.ca/fine-arts/event-season