Fri, Feb 10, 2023 6:30 pm
to
Sat, Feb 18, 2023 6:00 pm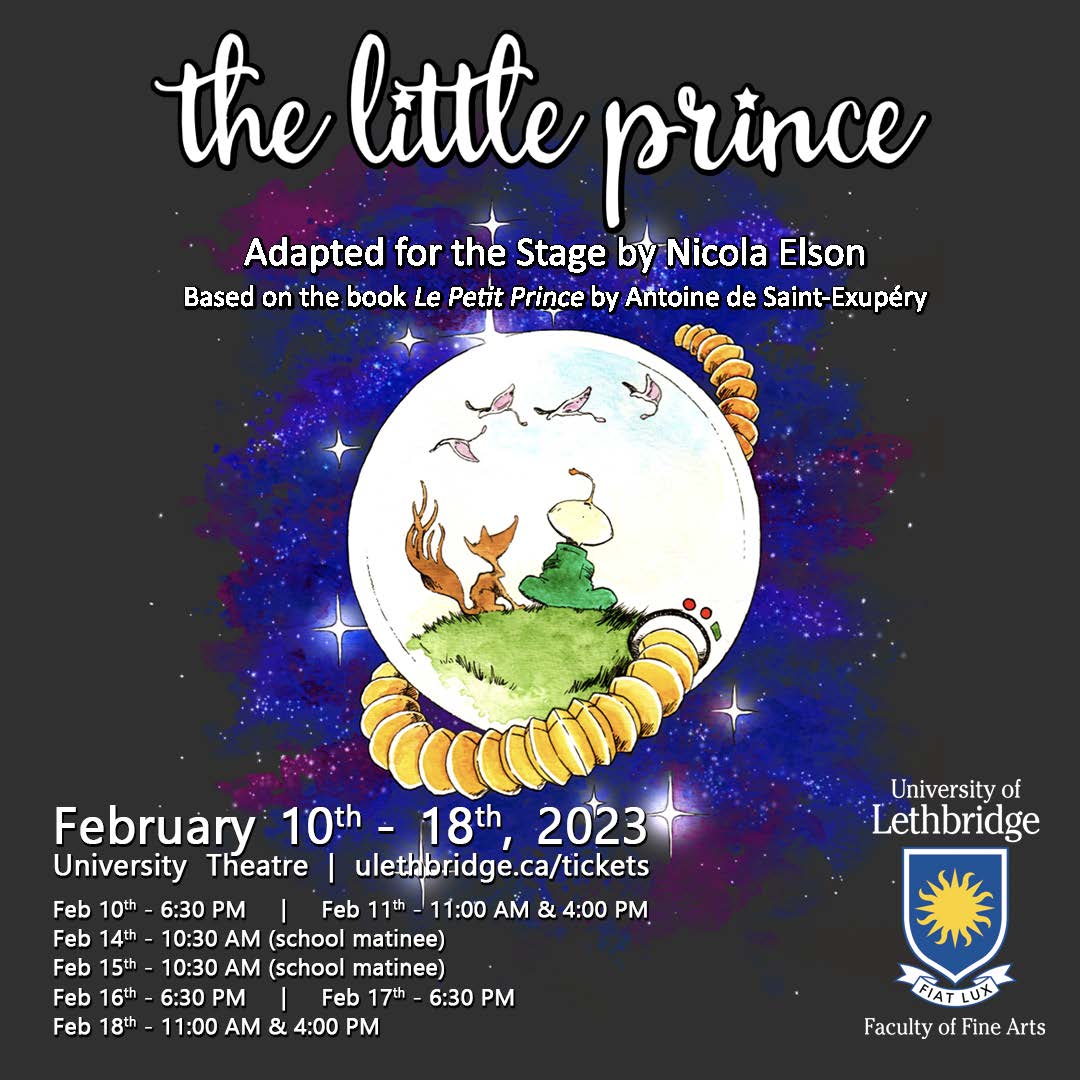 The Little Prince
based on the much-loved novella by Antoine de Saint-Exupéry
Adapted for the stage by Nicola Elson
This play is suitable for ages five and up and will take audiences into a magical world full of puppetry, masks, shadow theatre and live music!
SHOWTIMES:
FEB. 10 - 6:30 pm
FEB. 11 - 11:00 am & 4:00 pm
FEB. 16 - 6:30 pm
FEB. 17 - 6:30 pm
FEB. 18 - 11:00 am & 4:00 pm
TICKETS ARE AVAILABLE AT https://ulethbridge.ca/tickets or at our Box Office, located on Level 6 in the Centre for the Arts Atrium (Monday - Friday, 12:30pm - 3:30pm). Everyone needs a ticket, including children and infants. Call us to find the best seats for you and your family! 403-329-2616.
SPECIAL SCHOOL MATINEES FEB. 14 and 15 at 10:30am. Reserve seats for your school by emailing boxoffice@uleth.ca. Seats are Limited. Tickets are $9.00 each.
The Little Prince tells the story of a world-weary aviator whose plane crashes, stranding him in the middle of the Sahara Desert. He awakes the next morning to the voice of the Little Prince, "Please, draw me a sheep."  As the Little Prince's curiosity takes them further on their journey together, the pilot learns of the tiny planet from which the prince has come and of his wondrous travels among the stars. 
Based on the best-selling novella, Le Petit Prince, by Antoine de Saint-Exupéry, the Drama Department, led by director and faculty member, Nicola Elson, brings the story to life for audiences of all ages. "The story is captivating for young audiences, however, the poetry and the themes last into adulthood," says Elson. "Kids understand and follow complex, emotional stories. As they look with wonder at the ridiculousness of adulthood, adults can in turn look in wonder at the magic of childhood."
Bringing The Little Prince to the University Theatre stage has been a years-long process for Elson, having begun working on the adaptation and development of the play in 2018. "I am thrilled to finally see this production realized," Elson says. "We don't see a lot of theatre for young audience productions in our city, but theatre for children is so important because it creates a sense of community and empathy for our kids. Children are inspired by seeing themselves represented on stage and grow emotionally by being a part of something creative."
Elson remarks at the great work the students, staff, and faculty have put in to realizing The Little Prince. "It's a truly collaborative effort where our creative team consists of people across many disciplines. We've worked together with not only members of the Drama Department, but also the departments of Music and New Media as well," Elson says. "It is common in the world of puppetry and masks for artists to work across different areas. From the beginning we've been jumping in each other's puddles but deferring to the expert in the room, so that we are all participating in the process constructively." Nicola also notes the privilege of working with Calgary puppet designers, Ali Deregt (BFA '12 ) and Braden Griffiths, and composer and musical director, Kathy Zaborsky.
With special show times scheduled for young audiences, there are plenty of opportunities for audiences of all ages to experience the magic of The Little Prince. 
Tickets are $18 regular, $13 seniors and alumni, $12 children/infants, and $12 students. University of Lethbridge students may reserve one complimentary ticket for this production with their student ID at the Box Office window or by going to ulethbridge.ca/tickets
Contact:
Box Office | boxoffice@uleth.ca | 403-329-2616 | ulethbridge.ca/fine-arts/event-season