Daily from Tue, Oct 5, 2021 to Sat, Oct 9, 2021 7:30 pm to 9:30 pm
This event is from the archives of The Notice Board. The event has already taken place and the information contained in this post may no longer be relevant or accurate.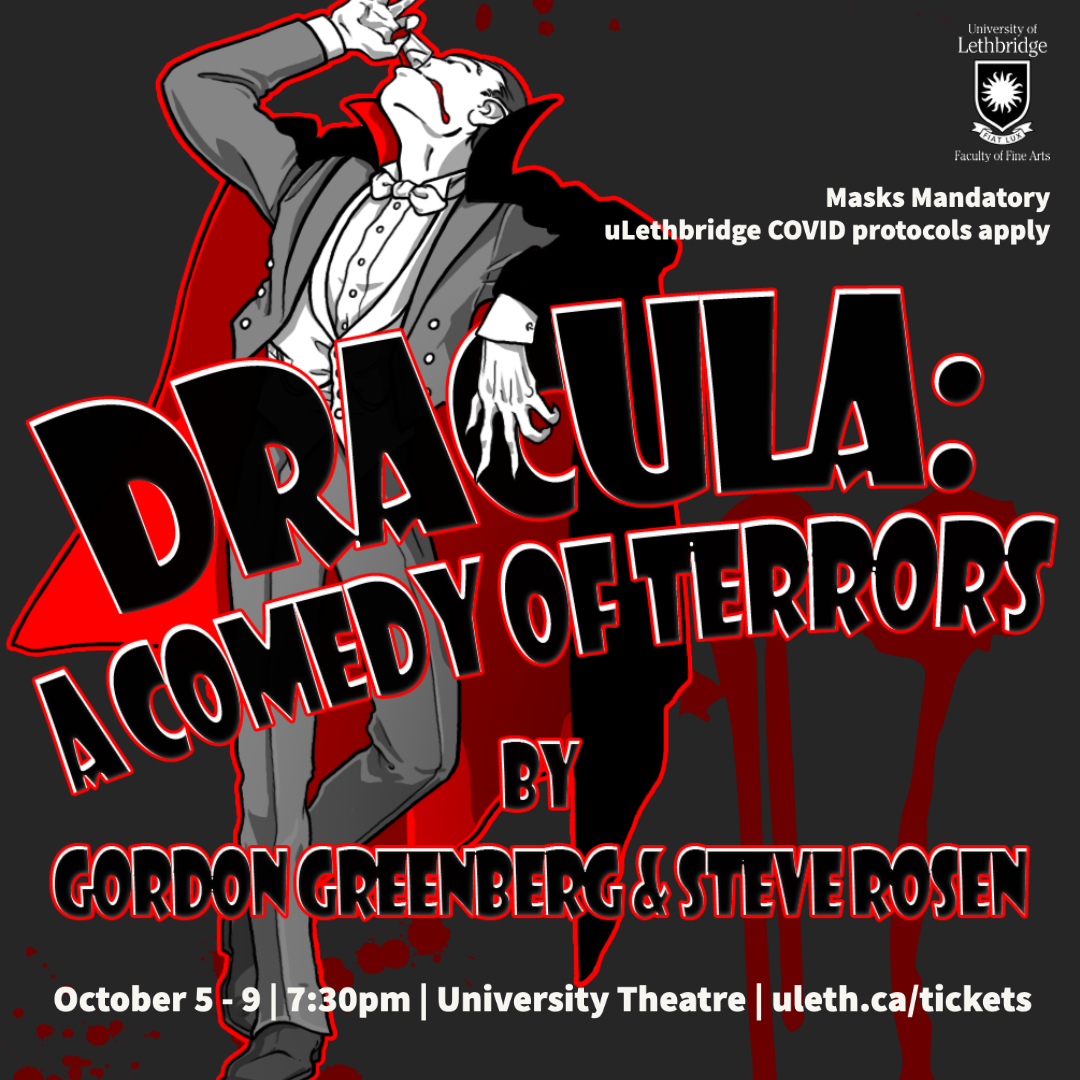 October 5 - 9 | 7:30 pm | University Theatre
The University of Lethbridge Theatre opens its doors to live audiences October 5 - 9 at 7:30 pm with some much deserved comedy relief with Dracula: A Comedy of Terrors by by Gordon Greenberg & Steve Rosen. 
Facilitated and directed by Department of Drama faculty, Nicola Elson, Dracula: A Comedy of Terrors is about a famed vampire hunter and a band of unlikely heroes chasing the legendary Count Dracula from the British countryside to Transylvania and back again.
Dracula, A Comedy of Terrors is what happens when you take Bram Stoker's legendary vampire tale and reimagine it as a slapstick farce, full of antics and blood curdling screams...of laughter. This staged radio-play is a lighting fast, laugh-out-loud one act comedy, showcasing five actors playing fourteen characters, accompanied by live music and foley! 
To keep our audiences safe, and in accordance with uLethbridge COVID protocols and as part of the province's Restriction Exemption Program, beginning on September 20, 2021, audience members 12 years and older attending an event in any venue at the uLethbridge Centre for the Arts will be required to either show proof they have been fully vaccinated against COVID-19 or proof that they have tested negative for COVID-19 within 72 hours prior to attending the event. Event attendees will be asked to show this proof prior to entering any venue. Attendees who cannot provide this attestation will be refused entry and no refund will be issued. Masks are mandatory on campus and for the full duration of the show. We appreciate our audience's understanding and support! 
Tickets are available online uLethbridge.ca/tickets
$18 regular | $15 Seniors and alumni | $12 Students
University of Lethbridge Students - Receive 1 free complimentary ticket for this show! Present your ID at our box office window to reserve your free seat!
ULethbridge.ca/tickets | Box Office 403-329-2616
Contact:
finearts | Boxoffice@uleth.ca | 403-329-2616 | ulethbridge.ca/fine-arts/event-season