Mon, Apr 25, 2022

6:00 pm

to

8:45 pm
This event is from the archives of The Notice Board. The event has already taken place and the information contained in this post may no longer be relevant or accurate.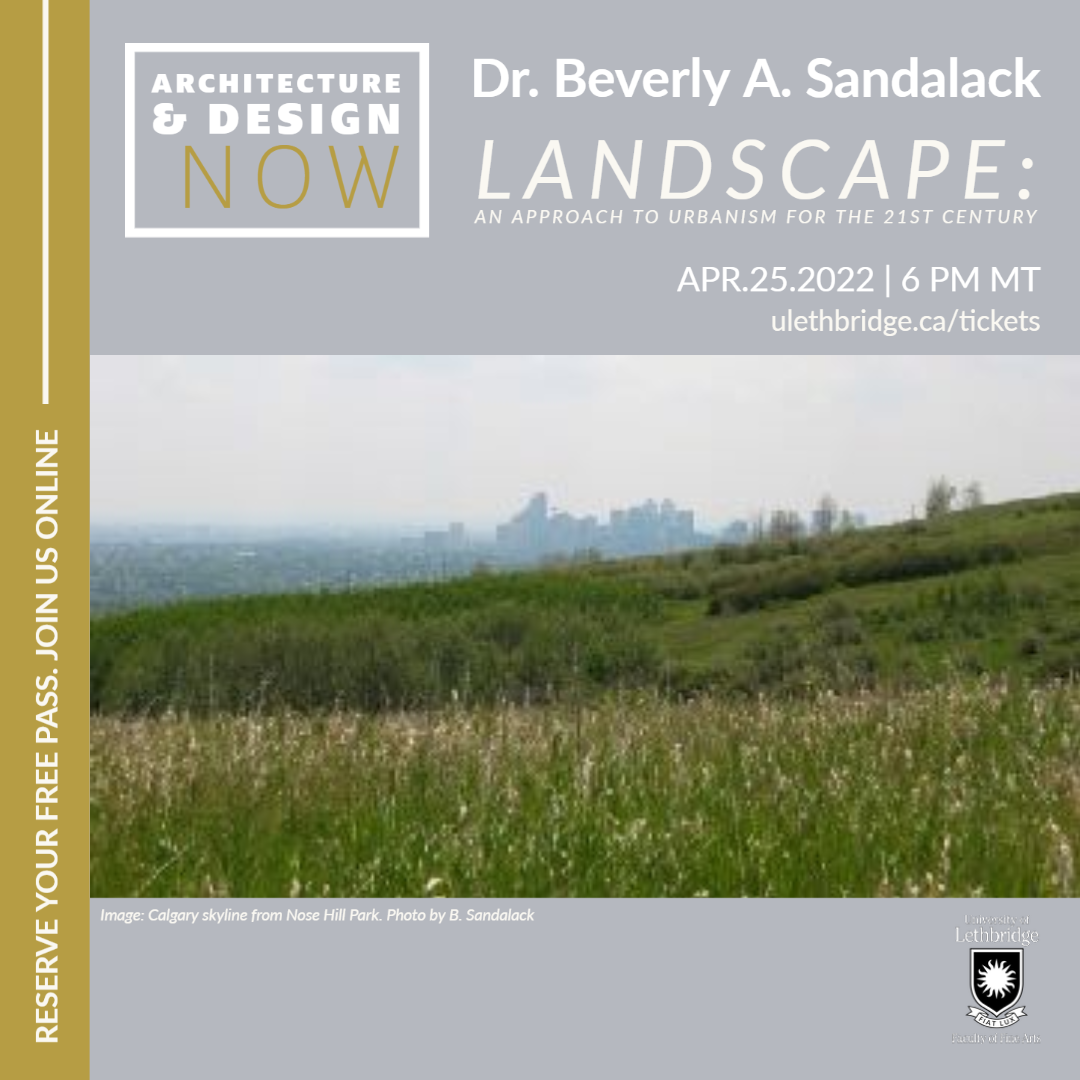 UPDATE - THIS EVENT HAS BEEN CANCELLED
Architecture & Design NOW presents Dr. Beverly A. Sandalack
6 pm MT | April 25, 2022
uLethbridge Online Presentation
Free admission, everyone welcome
LANDSCAPE: an approach to urbanism for the 21st century
Ideally, urbanism should be one of best expressions of good environmentalism, but in practice, cities are often hostile places for nature and for ourselves. The perils of the 21st century now include the uncertainties of climate change, loss of species diversity, concerns about sustainability, pandemic and other threats to human health and loss of sense of place. Landscape, once thought of as a place of relief from the urban condition, should be viewed as integral with city form and process, and with important roles to play in sustaining life, in addition to providing places for recreation and entertainment or for aesthetic enjoyment. A new and important landscape scale and approach could come to distinguish our current era, but it will require a revolution in environmental design and a radical reconceptualization of the relationship between nature and society.
Dr. Beverly A. Sandalack, PhD, FCSLA, RPP, MCIP is Professor in the School of Architecture, Landscape & Planning, University of Calgary, former Associate Dean (Academic) and founding head of the Master of Landscape Architecture Program. Since 2000, she has co-directed the Urban Lab, an innovative research group concerned with urban design, urban morphology and cultural landscapes whose work has received over a dozen professional awards from the CSLA, the APPI, edra and Calgary Heritage. She Chaired the International Federation of Landscape Architects Student Competitions Jury 2004-2019 and received the IFLA President's Award in 2020. A Fellow of the Canadian Society of Landscape Architects, she received the CSLA Teaching Award in 2018. Her publications include two books on urban morphology and design, two on sense of place and cultural landscapes and numerous articles in academic journals and the local press. She is currently serving her third term on Calgary's Urban Design Review Panel.
Image credit: Calgary skyline from Nose Hill Park. Photo by B Sandalack.
Room or Area:
uLethbridge Online Presentation
THIS EVENT HAS BEEN CANCELLED.
Admission is FREE. Please reserve your pass in advance for the link to attend this online presentation.
Contact:
finearts | finearts@uleth.ca | ulethbridge.ca/fine-arts/event-season