Wed, Mar 22, 2023

12:00 pm

to

1:00 pm
This event is from the archives of The Notice Board. The event has already taken place and the information contained in this post may no longer be relevant or accurate.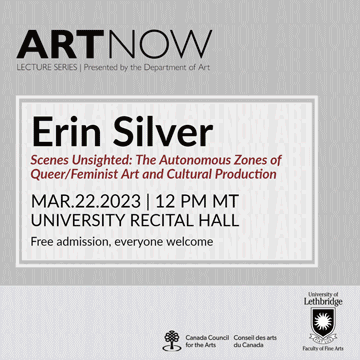 Art NOW series presents Erin Silver
Scenes Unsighted: The Autonomous Zones of Queer/Feminist Art and Cultural Production
12 pm MT | March 22, 2023
University Recital Hall
Free admission, everyone welcome
Can't attend in person? Log on to view live online!
Histories of North American feminist, queer, and queer feminist art, from their roots in the Second Wave feminism of the 1970s, to their influence on queer and feminist cultural production in the present, can be traced in relation to a history of the institutions, organizations, collectives, and structures that have helped to secure and legitimize feminist and queer art practices. In this talk Silver considers how the specificities of place, as well as space, contribute to historical understandings of feminist, queer, and queer feminist cultural production, and interrogates the shift in meaning that has occurred over the last fifty years around the word "alternative," as it relates to artist and subcultural communities. Rather than 'building' a feminist or queer art history, Silver examines how feminist and queer art histories have come to be built in relation to the sites that house feminist and queer artistic activity. In asking how these spaces hold up historically in the present day context, She puts them into dialogue with contemporary queer feminist initiatives and interventions, showing how queer feminism can work, in the present day, to secure these spaces and to critically engage their histories as integral to their continued relevance.
Erin Silver is a historian of queer and feminist art, visual culture, performance, and activism, and an Assistant Professor of Art History and Curatorial Studies at the University of British Columbia. She is the author of Taking Place: Building Histories of Queer and Feminist Art in North America (Manchester University Press, 2023) and Suzy Lake: Life & Work (Art Canada Institute, 2021), and co-editor (with Amelia Jones) of Otherwise: Imagining Queer Feminist Art Histories (Manchester University Press, 2016) and (with taisha paggett) the winter 2017 issue of C Magazine, "Force," on intersectional feminisms and movement culture. Silver's writing has appeared in C Magazine, CAA Reviews, Canadian Art, Ciel Variable, Prefix Photo, Fuse Magazine, Momus, Performance Matters, Visual Resources, and in the volume Narratives Unfolding: National Art Histories in an Unfinished World (ed. Martha Langford, McGill-Queen's University Press, 2017), as well as in various exhibition catalogues in the areas of Canadian photography and queer and feminist art.
Images courtesy of the artist.
We acknowledge the support of the Canada Council for the Arts. Nous remercions le Conseil des arts du Canada de son soutien.
Contact:
finearts | finearts@uleth.ca | ulethbridge.ca/fine-arts/event-season