Mon, Nov 20, 2023

12:00 pm

to

1:00 pm
This event is from the archives of The Notice Board. The event has already taken place and the information contained in this post may no longer be relevant or accurate.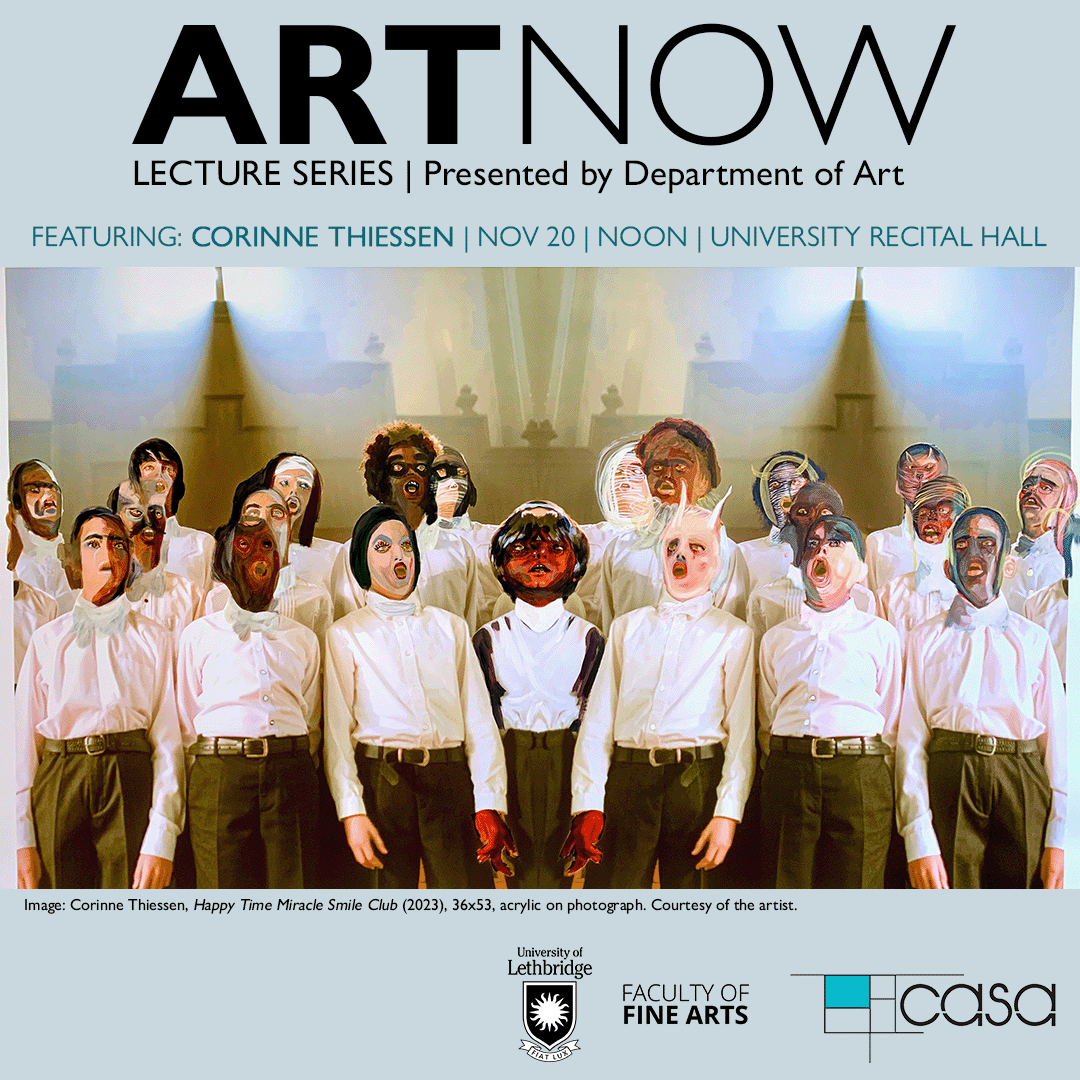 Art NOW speaker series presents Corinne Thiessen
12 pm | November 20, 2023
University Recital Hall
POST-TRAUMATIC PLAYDATE
Remember being a kid and drawing marker-moustaches on magazine faces? My practice of overpainting photographs is an elaborate vandalism. Images of manufactured bliss morph into a circus sideshow. Accountants, realtors, models, and insurance agents in stock images and local magazines masquerade in clown make-up as horny demons.
Corporate utopia becomes theatre.
In this Art Now talk, local artist Corinne Thiessen discusses loneliness and vulnerability to high control groups, cults, scams, and predatory, controlling practices in connection to her painted scenes of worship and mass hysteria. Stock images of team-building, success, life-coaching, vision-boarding are comedically re-written as a capitalist palimpsest.
Corinne Thiessen (MFA-Art '14) is a multidisciplinary artist born in Winnipeg, Manitoba, Treaty 1 territory. She holds a Master of Fine Arts degree from the University of Lethbridge. Her paintings, animations, performances, and installations take a comedic look at human behaviour and social control, questioning the meaning of success and productivity under capitalism. 
Thiessen has exhibited at Galeria Enrique Guerrero, Mexico City; The Penticton Art Gallery, B.C.; Esker Foundation and Stride Gallery in Calgary, Soo Visual Arts in Minneapolis, and a solo exhibition at the Southern Alberta Art Gallery in Lethbridge, Alberta.
Residencies and collaborative projects at the Banff Centre; ZK/U, Berlin; Island Mountain Arts, B.C.; Centre Pompadour, France; The Museum of Loss and Renewal, Italy; also include published work in MAP Magazine and in the 2019 Printing Plant Art Book Fair in Amsterdam as well as sessional instruction at Lethbridge College and in the Faculty of Fine Arts at the University of Lethbridge.
Image: Happy Time Miracle Smile Club, 36x53, acrylic on photograph, 2023. Courtesy of the artist.
Free admission, everyone welcome
Contact:
finearts | finearts@uleth.ca | ulethbridge.ca/fine-arts/event-season