Fri, Mar 31, 2023

12:00 pm

to

1:00 pm
This event is from the archives of The Notice Board. The event has already taken place and the information contained in this post may no longer be relevant or accurate.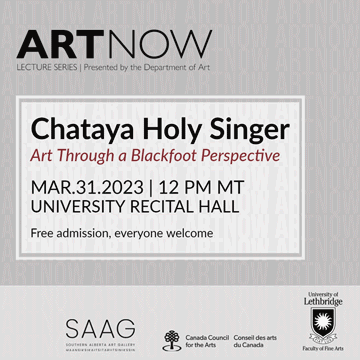 Art NOW series presents Chataya Holy Singer
Art Through a Blackfoot Perspective
12 pm MT | March 31, 2023
University Recital Hall
Free admission, everyone welcome
Can't attend in person? Log on to view live online!
Chataya Holy Singer is a Kainai Blackfoot interdisciplinary artist working with both traditional and contemporary mediums including photography, digital media, painting, drawing, performance, beading and sewing. Her work is based on identity, spirituality, language, and traditional knowledge by integrating her Indigenous worldview through a contemporary perspective.
Holy Singer is deeply passionate about her Blackfoot roots. Her practice weaves concepts of the past and present as a tool to preserve her culture for the future. Holy Singer achieves this through acts of resilience, decolonialization, revitalization, and reclaiming what has been taken away from her ancestors. She aims to "break the cycle" while navigating through a Eurocentric society with an Indigenous lens. Holy Singer strongly promotes education, encouraging the youth to continue bridging the gaps left by historical trauma. Her inspiration derives from her strength to carry on the traditional way of life, supported by her art, and surviving through blood memory.
Chataya Holy Singer's exhibition, No'tsiitsi – My Hands, is on view at the Southern Alberta Art Gallery until April 23, 2023. Thank you to the Southern Alberta Art Gallery for their collaboration on this presentation.
Images: (1) courtesy of the artist, (2) Yaahpittohsohkoto, multimedia installation, approx 6' x 6', 2019, (3) No'tsiitsi - My Hands, black and white film photography printed on luster/pearl photo paper, dry mounted on foamcore, 2023. Images courtesy of the artist.
We acknowledge the support of the Canada Council for the Arts. Nous remercions le Conseil des arts du Canada de son soutien.
Contact:
finearts | finearts@uleth.ca | ulethbridge.ca/fine-arts/event-season