Fri, Jan 28, 2022

12:00 pm

to

1:00 pm
This event is from the archives of The Notice Board. The event has already taken place and the information contained in this post may no longer be relevant or accurate.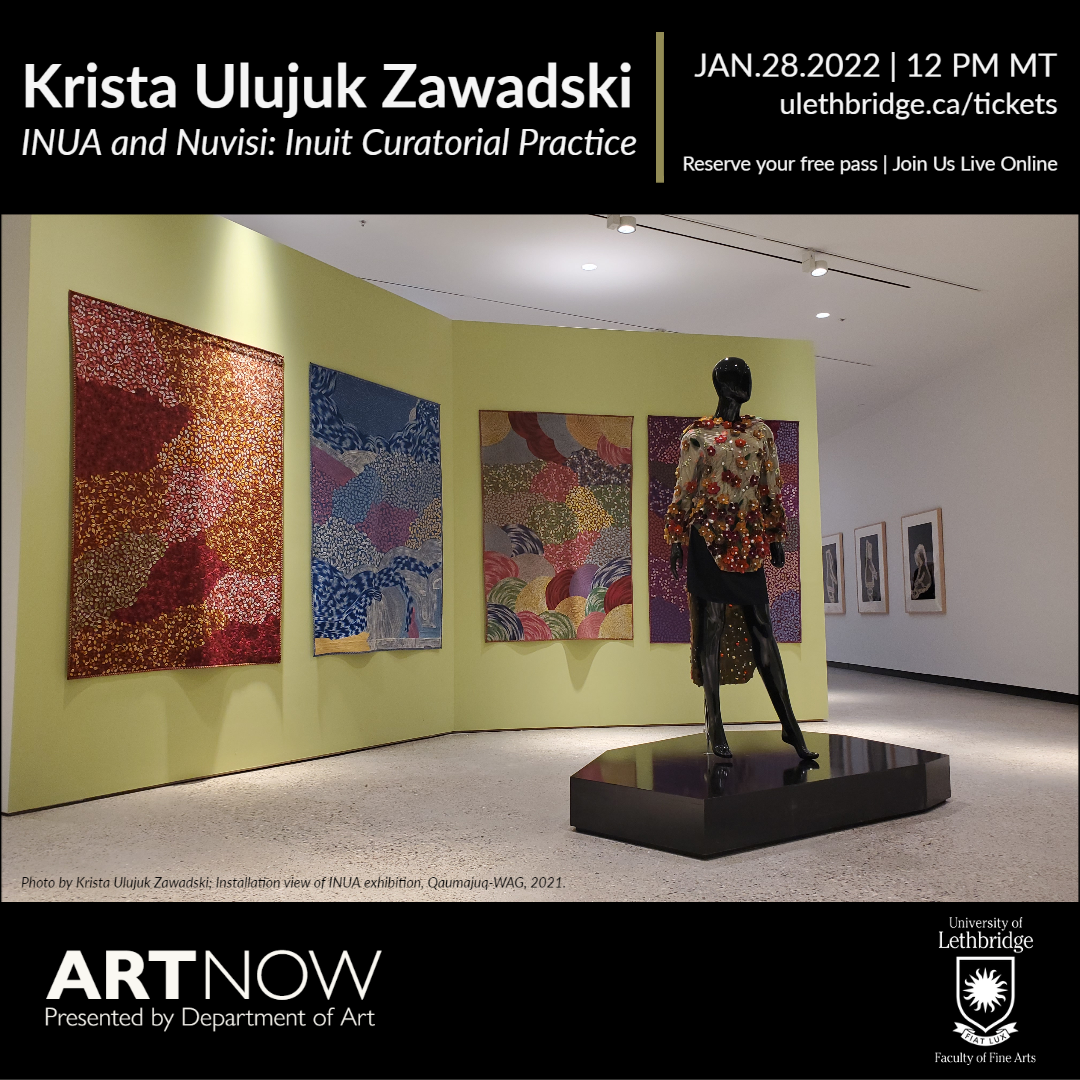 Art NOW presents Krista Ulujuk Zawadski
INUA and Nuvisi: Inuit Curatorial Practice
12 pm MT | January 28, 2022
uLethbridge Online Presentation
Free admission, everyone welcome
Krista Ulujuk Zawadski is from Igluligaarjuk (Chesterfield Inlet) and Rankin Inlet, Nunavut. She identifies as an Inuk curator, anthropologist, arts leader, researcher, scholar and writer. Her areas of expertise are Arctic anthropology, collections-based research, storywork, Inuit curatorial research and practice. Krista's outlook, research and work are deeply rooted in her upbringing in Nunavut, and she feels it reflects in many aspects of her work.
Krista is a PhD candidate in Cultural Mediations at Carleton University. The future of Inuit art looks diverse to Krista. The field is continuously being re-charted by innovative, creative and outgoing artists that pave the way for new and diverse art.
Zawadski co-curated with three other Inuit the inaugural exhibition, INUA, at Qaumajuq-WAG in Winnipeg, MB. An exhibition of Inuit art from over 90 Inuit artists, INUA opened at Qaumajuq-WAG in 2021. Most recently, Zawadski curated an exhibition at Carleton University Art Gallery, called Nuvisi: Threading Our Beads at Qatiktalik.
Photo by Krista Ulujuk Zawadski; Installation view of INUA exhibition, Qaumajuq-WAG, 2021.
Room or Area:
uLethbridge Online Presentation
Reserve your pass HERE
Admission is FREE. Please reserve your pass in advance for the link to attend this online presentation.
Contact:
finearts | finearts@uleth.ca | ulethbridge.ca/fine-arts/event-season