Fri, Nov 26, 2021

12:00 pm

to

1:00 pm
This event is from the archives of The Notice Board. The event has already taken place and the information contained in this post may no longer be relevant or accurate.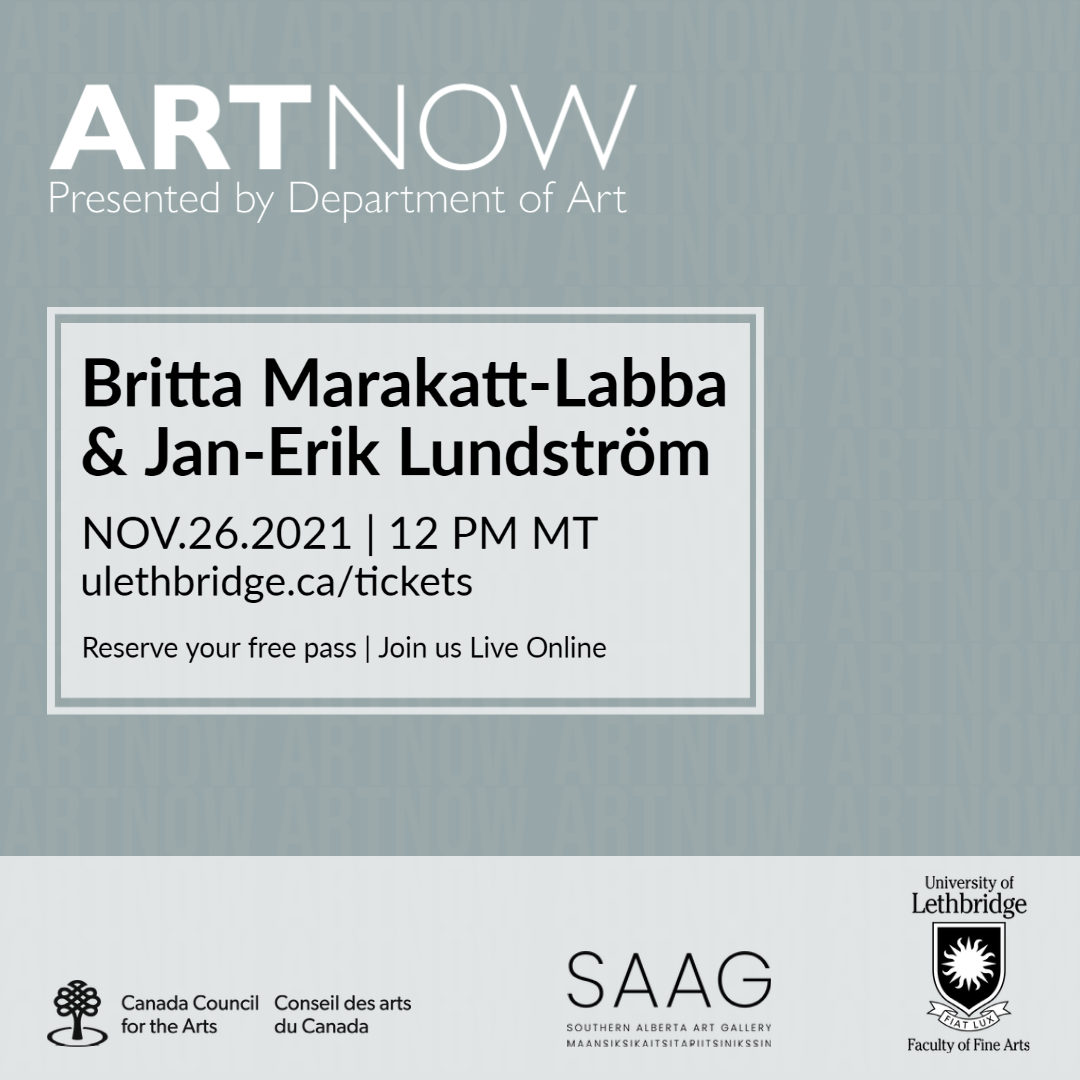 Art NOW presents Britta Marakatt-Labba & Jan-Erik Lundström
12 pm MT | November 26, 2021
uLethbridge Online Presentation
Free admission, everyone welcome
Britta Marakatt-Labba's exhibition, "Under the Vast Sky," is curated by Jan-Erik Lundström and on view at the Southern Alberta Art Gallery from November 26, 2021 to February 6, 2022.
Britta Marakatt-Labba is a North Sámi artist, living and working in Badje-Sohppar/Övre Soppero in Swedish Sápmi. Marakatt-Labba studied at the HDK Academy of Design and Crafts in Gothenburg, Sweden, but grounds her art equally in the duodji practices of Sámi crafts and art, learned through her upbringing. With embroidery as her principal medium, Marakatt-Labba works with textile art, collage, sculpture, and installations. In addition, she has also engaged in ecumenical clothing design, scenography, and book illustration. Britta Marakatt-Labba was a member of the influential and legendary Máze Joavku/Sámi Artist Group during its existence in the late 1970s and early 1980s. Marakatt-Labba exhibits internationally with recent projects in USA, Finland, Norway, and Nepal. Her art is collected by national and regional museums, such as Nasjonalmuseet, Oslo; Moderna Museet, Stockholm, the North Norwegian Art Museum, as well as many additional public institutions and private collectors.
Jan-Erik Lundström is a curator, critic and historian of contemporary art and visual culture. He is the former director of the Sami Center of Contemporary Art, Kárášjohka, Norway, Bildmuseet, Umeå, and of Fotografiska museet, Stockholm, Sweden. He is the chairman of the Paletten Art journal and of Skogen Art Space, and the former chairman of the Centre for Photography in Stockholm.. Among his curatorial projects are Show Colour: Resist, Stand Up, Advocate, Fall Back Spring Forward, Surviving the Future, The Map: Critical Cartographies, Politics of Place, Carlos Capelán: Only You and Society Must Be Defended (1st Thessaloniki Biennial of Contemporary Art). He was the chief curator of Berlin Photography Festival and the artistic director of the 3rd Bucharest Biennale. He is the author and editor of many books, including Thinking Photography – Using Photography, Contemporary Sami Art and Design, Britta Marakatt-Labba: Embroidered Stories, Nordic Landscapes, Ursula Biemann: Mission Reports, and Irving Penn: Photographs, and he has published in journals such as Afterimage, Afterall, EIKON, European Photography, Glänta, Kunstpluss, and Tema Celeste. Lundström has contributed to major publications such as Horizons: Towards a Global Africa, The Oxford Companion to the Photograph and The History of European Photography of the 20th Century. Lundström has been a guest lecturer at, among others, Alvar Aalto University, Helsinki, Konstfackskolan and the Royal Art Academy, Stockholm, Malmö Art Academy, HISK, Antwerpen/Gent, Tarttu Art Academy, Estonia, Universidad de los Ándes, Bogotá, and Oslo Art Academy.
We gratefully acknowledge the support of the Canada Council for the Arts. Nous remercions le Conseil des arts du Canada de son soutien.
Thank you to the Southern Alberta Art Gallery for their collaboration on this presentation.
Room or Area:
uLethbridge Online Presentation
Reserve your pass HERE
Admission is FREE. Please reserve your pass in advance to attend this online presentation.
Contact:
finearts | finearts@uleth.ca | ulethbridge.ca/fine-arts/event-season