Fri, Mar 17, 2023

12:00 pm

to

3:30 pm
This event is from the archives of The Notice Board. The event has already taken place and the information contained in this post may no longer be relevant or accurate.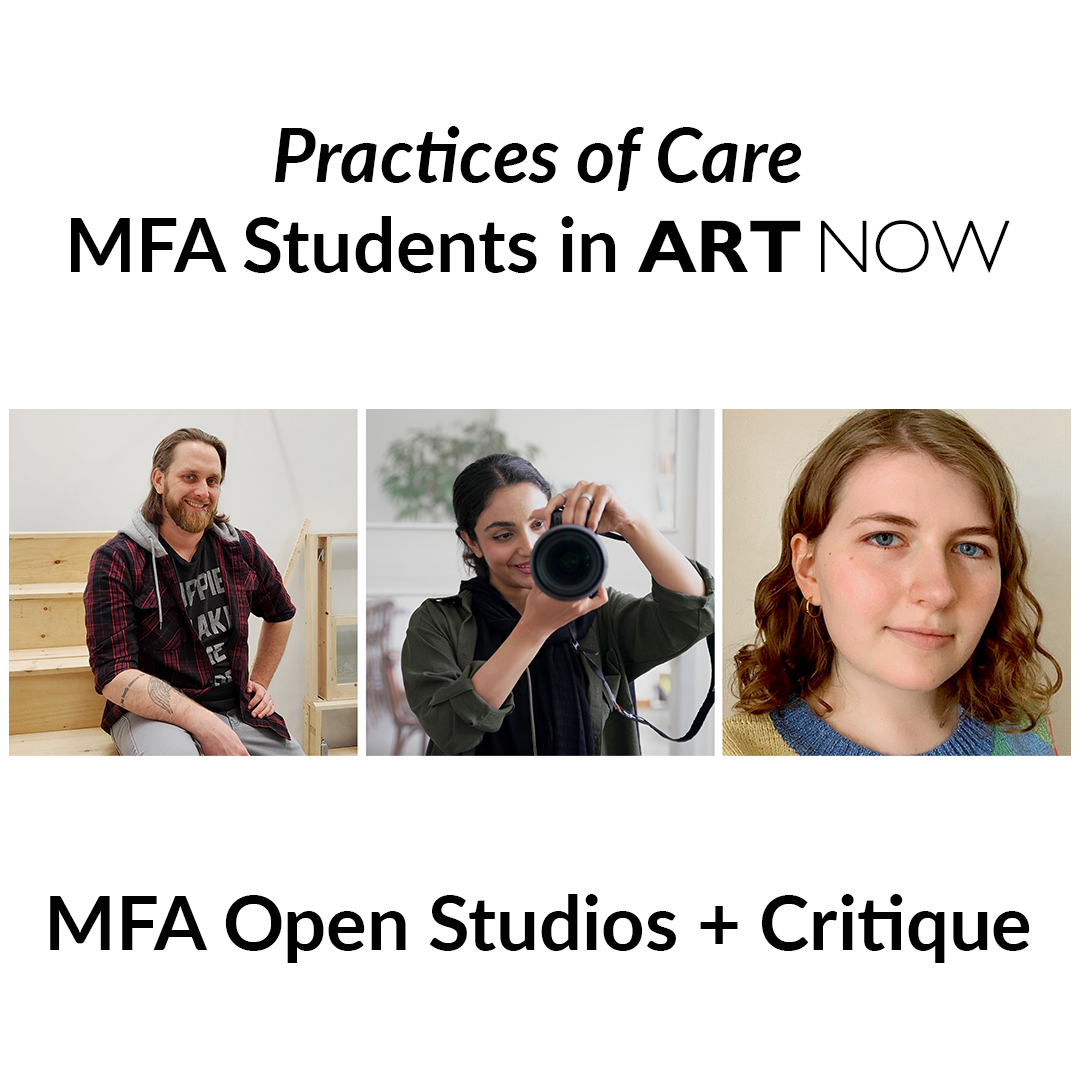 Mahshad Hosseini | Isabel Kelly | David Knight
March 17, 2023
Practices of Care | MFA Students in Art NOW
12:00 - 12:50 PM | University Recital Hall
Can't attend in person? Log on to view live online!
Followed by:
MFA Open Studios + Critique
1:30 - 3:30 PM | W823 + W890 (8th floor, Centre for the Arts)
Practices of Care introduces three artists, graduate students in the Department of Art's MFA program, and focuses our attention on their respective research-creation projects.
What are aesthetic experiences if not care relationships with the world? How can our ethical relations with others, whether humans, non-human life forms, environments, or artifacts, be guided or informed by aesthetic sensibility and substantiated through aesthetic means?
The Department of Art's annual MFA Open Studios and Critique follows the research presentations in Art NOW, where guests, students, faculty and the members of the university community can view and discuss selected works in situ by Mahshad Hosseini, Isabel Kelly, and David Knight.
About the Artists:
Mahshad Hosseini is an Iranian photographer. She earned her B.A. in Photography from the Art University of Isfahan. Mahshad's documentary project "Tajir" (Partition) was exhibited at the Art University, Isfahan in 2019. Her research explores the representation and transmission of historical narratives in the context of Iran's social, religious and political culture.
Isabel Kelly is an American artist. She graduated with a B.A. in Studio Art and Theatre from Lawrence University, Appleton, Wisconsin. Isabel's exhibitions include Lawrence University, Carthage College, and Rabbit Art Gallery. She interned with Third Avenue Playworks, Sturgeon Bay, Wisconsin and Degree Art/Artellite, Somerset House, London, England. She works primarily with object-based mixed media, exploring themes that traverse the art of storytelling by weaving material details into narrative vignettes.
David Knight is an artist from Wallaceburg, Ontario. He received an Advanced Diploma in Fine Art from Fanshawe College in London, Ontario in 2017 and completed his B.F.A. at the Nova Scotia College of Art and Design University, Halifax in 2019, majoring in Sculpture. Currently, David creates sculpture that engages and reimagines common architectural forms like stairs and windows to question the frames of collective and individual imagination, perception, memory and history. 
Room or Area:
Recital Hall | W823 | W890
Contact:
finearts | finearts@uleth.ca | ulethbridge.ca/fine-arts/event-season