Mon, Sep 27, 2021

6:00 pm

to

8:45 pm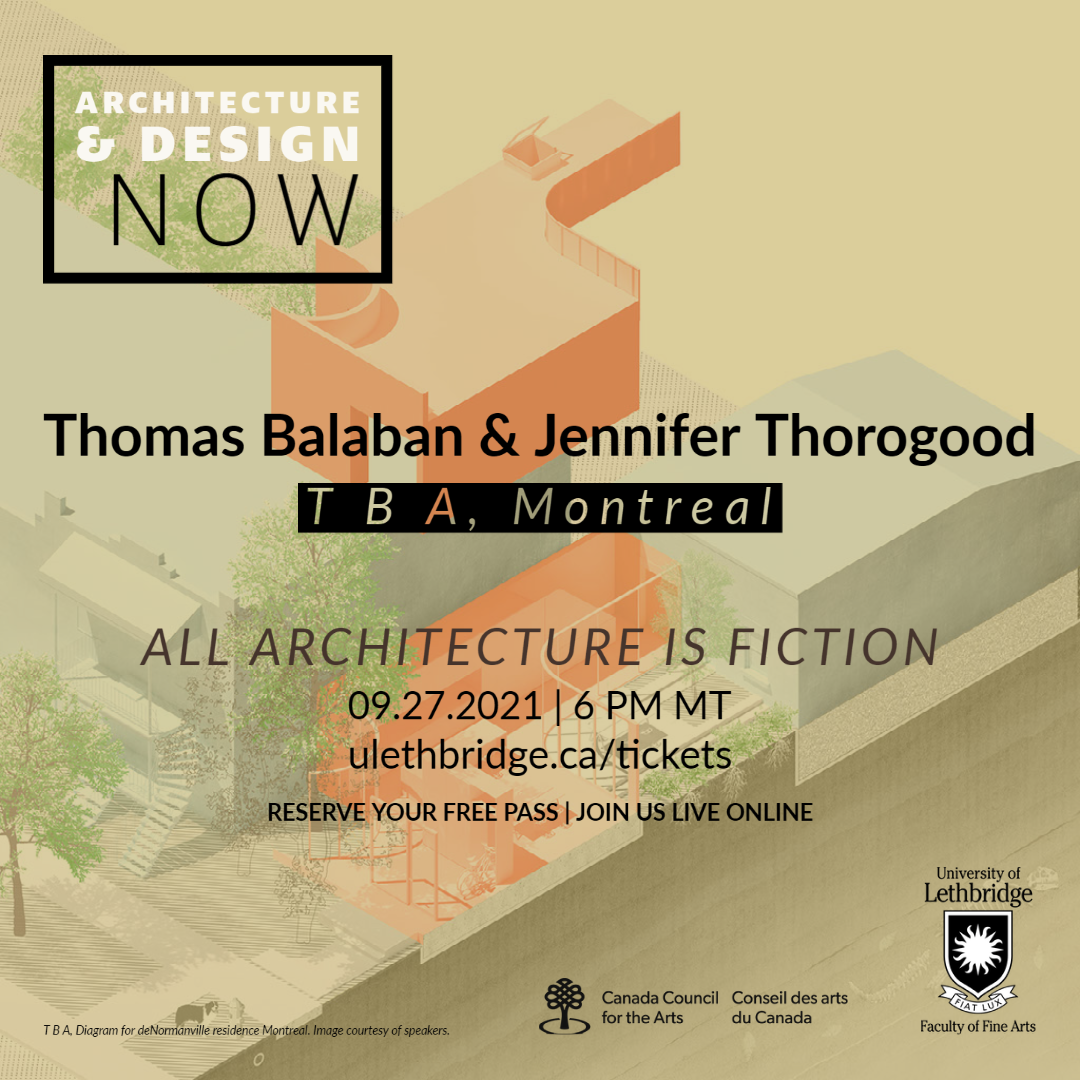 ARCHITECTURE & DESIGN NOW: Thomas Balaban & Jennifer Thorogood of T B A, Montreal
ALL ARCHITECTURE IS FICTION
6 pm | September 27, 2021
uLethbridge online presentation
Free admission, everyone welcome
Thomas Balaban and Jennifer Thorogood will present a collection of current and past work from T B A's diverse portfolio, discussed in the context of fiction in architecture.
T B A is a small multidisciplinary studio focusing on architecture and design. The award-winning practice, established by Thomas Balaban in 2009, is involved in residential, commercial, and small-scale institutional projects that focus on making cultural contributions, while also providing meaningful social and physical experiences. T B A, in collaboration with David Theodore, are currently representing Canada at the 17th Venice Biennale in Architecture with Impostor Cities, a project about Canada's architectural identity and faking it.
Thomas Balaban, OAQ received his professional architecture degree from McGill University. He has worked for Frank O. Gehry & Associates/Gehry Partners in Los Angeles as well as for Saucier+Perrotte in Montreal. In 2012 he was appointed professor in practice at the School of Architecture at Université de Montréal. He was previously an adjunct professor at McGill University's School of Architecture, teaching design studio from 2006 to 2012. Tom Balaban is originally from Bucharest.
Jennifer Thorogood, OAA received her professional M. Arch degree from McGill University. Prior to her education in architecture, she studied fine arts at the University of Western Ontario in London. Jennifer is a partner and senior designer at T B A. Her current practice focuses on three avenues of production: architectural work, installation, and material research. Jennifer currently teaches design studio at McGill University's School of Architecture.
We gratefully acknowledge the support of the Canada Council for the Arts. Nous remercions le Conseil des arts du Canada de son soutien. 
Room or Area:
ulethbridge Online Presentation
Reserve your pass HERE
Admission is FREE. Please reserve your pass in advance to attend this online presentation.
Contact:
finearts | finearts@uleth.ca | ulethbridge.ca/fine-arts/event-season