Mon, Nov 22, 2021

6:00 pm

to

8:45 pm
This event is from the archives of The Notice Board. The event has already taken place and the information contained in this post may no longer be relevant or accurate.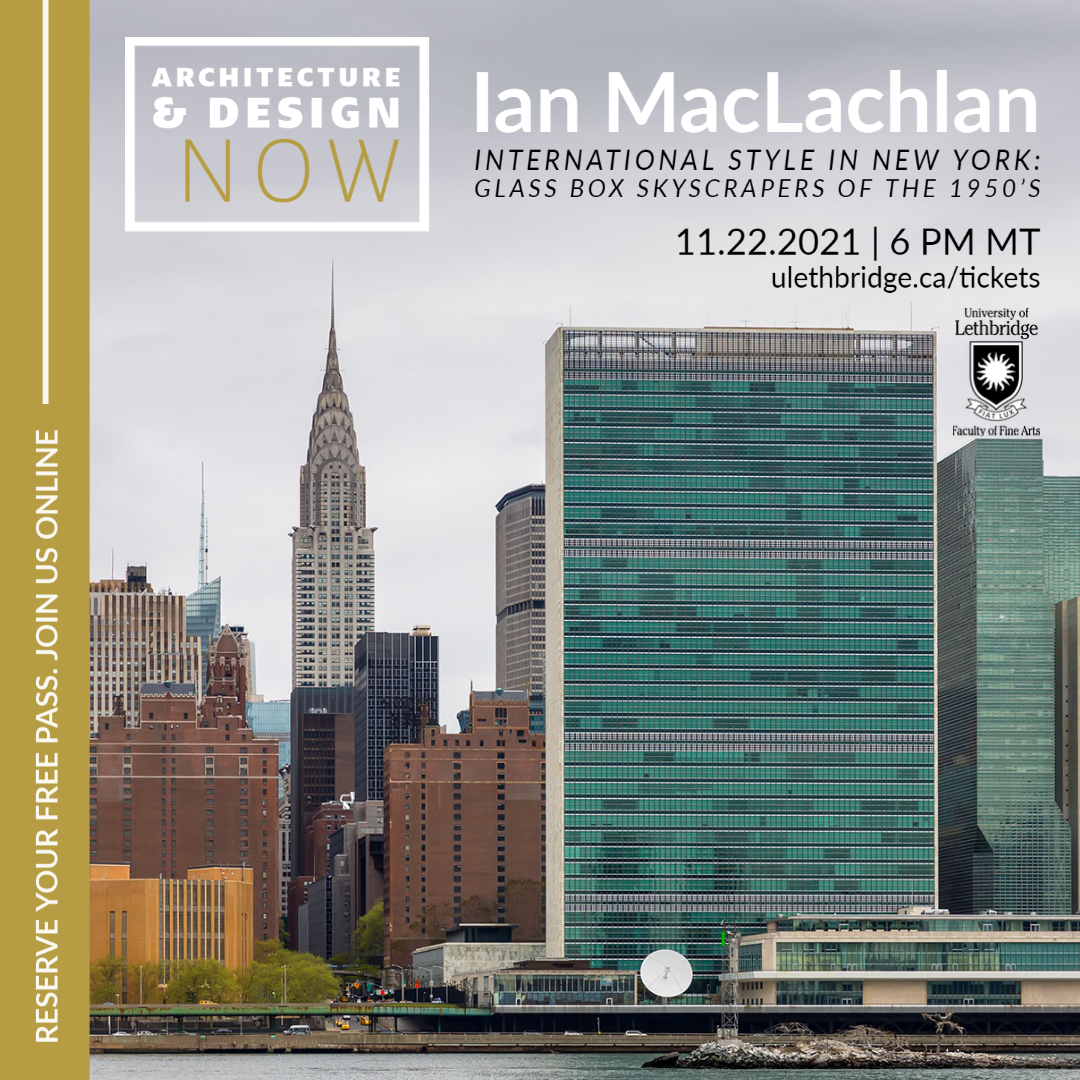 Architecture & Design NOW: Ian MacLachlan
International Style in New York: Glass Box Skyscrapers of the 1950's
6 pm | November 22, 2021
uLethbridge Online Presentation
Free admission, everyone welcome
Ian's second talk in his "Evolution of the American Skyscraper" lecture series covered the period from 1920 to 1935 when setback designs, zoning ordinances, Art Deco, and district steam heating had a profound influence on some of America's most iconic skyscrapers.
In this third lecture he addresses some of the key architectural features of the International Style with four examples drawn from Midtown Manhattan: the United Nations Secretariat, Leverhouse, Seagram's, and Pan Am/MetLife buildings.
Biography
Ian MacLachlan is Professor Emeritus of Geography at the University of Lethbridge in southern Alberta. His academic career included appointments in Sapporo, Mexico City, Edinburgh, and Perth, Western Australia. Ian now divides his time between Alberta and China where he is a Professor at Peking University Shenzhen Graduate School, School of Urban Planning and Design. With research that spans regional development, urban planning, architectural and planning history, and the geography of food animals, he has published in a range of geography, planning and urban history journals.  As a destination speaker for Crystal Cruises, he applies a geographic lens to the fascinating regional features at ports of call from the Baltic to the Med, from the Atlantic to the Pacific and across the Isthmus of Panama. In recent years, he has been developing a lecture series on skyscrapers in America, where they first developed, in their unique Canadian incarnation, and now in Asia which has come to dominate the world's mega tall structures.
Room or Area:
uLethbridge Online Presentation
Reserve your pass HERE
Admission is FREE. Please reserve your pass to attend this online presentation.
Contact:
finearts | finearts@uleth.ca | ulethbridge.ca/fine-arts/event-season