Daily from Tue, Oct 20, 2015 to Sat, Oct 24, 2015 7:30 pm to 9:30 pm
This event is from the archives of The Notice Board. The event has already taken place and the information contained in this post may no longer be relevant or accurate.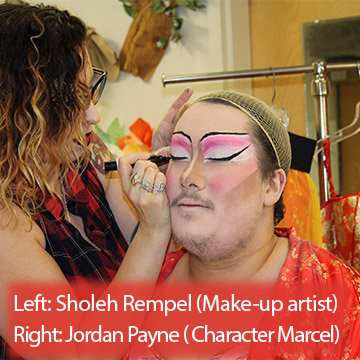 Weldon Rising by Phyllis Nagy
7:30 pm • University Theatre
Richie Wilcox – Director
Heat and Emotions on the Rise 
As the heat rises so do emotions in the edgy drama that opens the U of L Mainstage theatre season Oct. 20 through Oct. 24. Making its Canadian Premiere, Weldon Rising by Phyllis Nagy, appears at 7:30 pm nightly in the University Theatre.
Weldon Rising tells the story of four New Yorkers who witness a hate crime during an extreme heat wave. Directed by faculty member Richie Wilcox, the play is set in the early 1990's.  Wilcox describes the play as "surreal at times" peppered with comic relief provided by one of the main characters. "It's an examination of grief and regret . . .  How do you deal with seeing a crime and feeling helpless?" he says.  
Untold hours of rehearsal go into preparing a theatre production and Wilcox admits this one had plenty of challenges and lots of excitement involved. "With eight different personalities in the cast, the energy generated is exciting," he says. "I also like to challenge students with tough roles. It's exciting to see how they grow through that process."
As the director, one of his challenges was teaching students about the 1980's and 1990's and having them embrace that time period as well as choreographing a dance number. Other challenges lie within the play itself: "There are three sort of worlds or social circles that collide," he explains. "The challenge is getting them to collide slowly."  
In addition to a strong play, Wilcox promises audiences great sound, interesting lighting and a set designed by recent alumnus Ben Toner (BFA – Dramatic Arts '14). Aaron Collier is the guest sound designer and Mike Takats did the lighting design. "Audiences will experience a show that is great fun, complete with some grandiose costumes and good music," he says.
Tickets are $18 regular, $13 senior/alums, and $12/students.  Get yours at uleth.ca/tickets or call the U of L Box Office: 403.329.2616.
Tickets available September 14.
Online: ulethbridge.ca/tickets
Phone: 403-329-2616
Box office: M-F 12:30-3:30 pm, and 1 hour before ticketed performances.
Contact:
Katherine Wasiak | katherine.wasiak@uleth.ca | 403-329-2227