Wed, Apr 3, 2024

7:30 pm

to

9:30 pm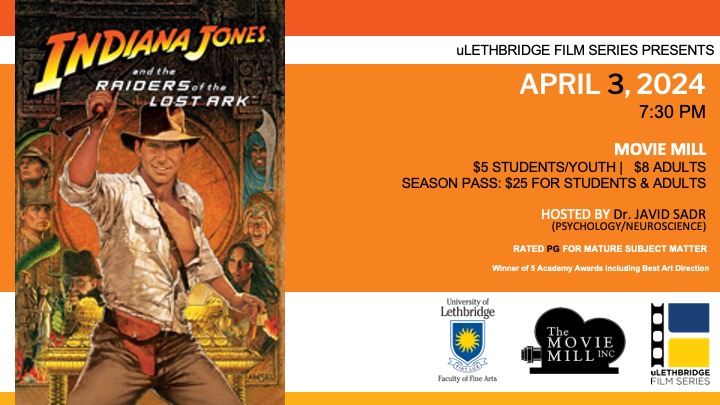 INDIANA JONES AND THE RAIDERS OF THE LOST ARK
(Steven Spielberg / USA / 1981)
Hosted by Dr. Javid Sadr (Psychology/Neuroscience)
Wednesday, April 3, 2024
Movie Mill, 7:30 p.m.
$5 students/youth | $8 adults
$25 Season Pass available!
Snakes! Darts! Whips! Lethal treasure of unimaginable power and mystery! Just another day at the office for archaeology professor Henry Jones, Jr.
Winner of 1981 Academy Awards for Best Art Direction, Film Editing, Sound, Sound Editing, and Visual Effects.
"Raiders of the Lost Ark is an out-of-body experience, a movie of glorious imagination and breakneck speed that grabs you in the first shot, hurtles you through a series of incredible adventures, and deposits you back in reality two hours later -- breathless, dizzy, wrung-out, and with a silly grin on your face."
- Roger Ebert, RogerEbert.com
Rated PG for violence and coarse language. View the trailer: https://www.youtube.com/watch?v=0xQSIdSRlAk
Contact:
Aaron Taylor | aaron.taylor2@uleth.ca | ulethbridge.ca/fine-arts/ulethbridge-film-series