Tue, Mar 10, 2015

7:00 pm

to

9:00 pm
This event is from the archives of The Notice Board. The event has already taken place and the information contained in this post may no longer be relevant or accurate.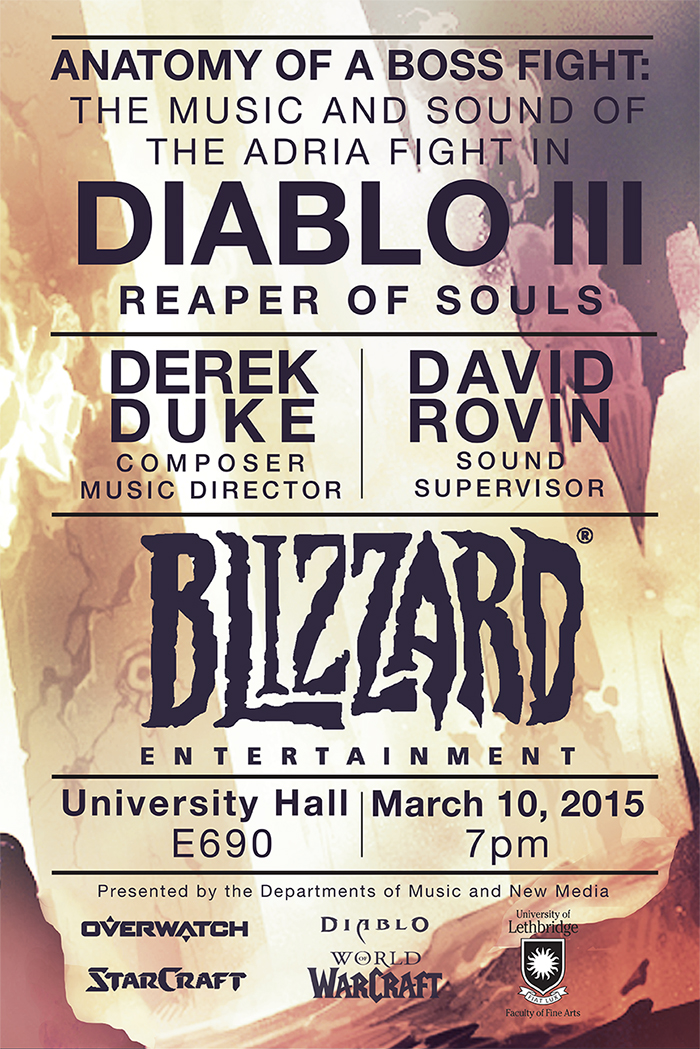 Anatomy of a Boss Fight: The Music and Sound of the Adria Fight in DIABLO III: Reaper of Souls
Public Talk with David Rovin and Derek Duke of Blizzard Entertainment
7 PM, March 10, 2015
E690, University Hall
Free Admission
Presented by the Department of Music - Digital Audio Arts in cooperation with the Department of New Media.
Biographies
Derek Duke is a Project Music Director and Composer at Blizzard Entertainment. During his fifteen year tenure at Blizzard he has contributed music to nearly every title since the original Starcraft. Most recently he's functioned as Lead Composer and Music Director on Diablo III: Reaper of Souls and is currently Music Director of Blizzard's newest franchise, Overwatch.
Derek received his formal training at California Institute of the Arts in both Composition and World Music. He also spent time studying music abroad, living in South India, and field recording and researching in West Africa and Thailand.
David Rovin began his audio career 22 years ago in traditional audio post-production focusing on animation and independent film.  Working with Academy Award nominated animators such as Bill Plympton and John Dilworth, he received an MPSE nomination for Sound For Animated Feature for his work on "I Married A strange Person" (Bill Plympton, Lions Gate).  In 2001 he transitioned full time into games.  He was Sound Supervisor on such titles as Mercenaries (I and II), Full Spectrum Warrior (I and II), and Fear Effect 2, as well as having keys roles in Destroy All Humans (I and II), Lord Of The Rings: Conquest, and The Sabateur.  In 2011 he joined the audio department at Blizzard games where he works on the Diablo 3 franchise, specializing in console development.
About Blizzard Entertainment®
Blizzard Entertainment® is a premier developer and publisher of entertainment software.  After establishing the Blizzard Entertainment label in 1994, the company quickly became one of the most popular and well-respected makers of computer games.  By focusing on creating well designed, highly enjoyable entertainment experiences, Blizzard Entertainment has maintained an unparalleled reputation for quality since its inception.
FREE Admission, open to the public
Contact:
Naomi Sato | satony@uleth.ca