Fri, Nov 24, 2023

12:30 pm

to

2:00 pm
This event is from the archives of The Notice Board. The event has already taken place and the information contained in this post may no longer be relevant or accurate.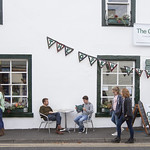 'Oh the Places You'll Go' When Studying History: Scottish Edition
with Janay Nugent 
Friday, November 24, 2023
12:30 p.m. MST
Zoom link:  https://bit.ly/Hist-Scotland
In 1560, the Scottish Reformation Parliament met and declared that all Scots were to convert from catholicism to calvinism. The reformed kirk (church) of early modern Scotland employed many tactics to persuade the hearts and change the minds of early modern parishioners in order to covert the faith of a nation. Scottish ministers were at the front line of this spiritual battle, and this paper examines the role that their wives were expected to play in the reforming mission. A distinctively reformed type of spiritual labour emerged for those women who were wedded to the manse. This meant the typical reproductive and emotional labour that female heads of households carried out was entwined with spiritual labour. This spiritual labour contributed to the reformed kirk by raising the next generation of reformed Scots who internalised the teachings of the kirk, by providing a model of godly behavior for the community to emulate, and by supporting the minister through emotional and reproductive labour so he was free to commit himself wholly towards the reformed cause.   
Dr. Janay Nugent is Associate Professor in the Department of History at the University of Lethbridge. She is co-author with Laura Stewart of Union and Revolution, 1625-1745: Scotland and Beyond (Edinburgh University Press) which was nominated for the Saltire Society Book of the Year Award in 2021. She is also co-editor with Elizabeth Ewan of Children and Youth in Premodern Scotland (Boydell & Brewer) and Finding the Family in Medieval and Early Modern Scotland (Routledge). She is currently in Scotland gathering final details for another co-edited collection with Cathryn Spence and Mairi Cowan titled, Gender in Scotland, 1200-1800: Place, Faith and Politics which will be in print with Edinburgh University Press in July 2024. The paper being presented was co-authored by L. Rae Stauffer.
Photo of The Open Book store by Colin Tennant
Contact:
Jenny Oseen | oseejs@uleth.ca | 403-329-2551