Daily from Tue, Nov 16, 2021 to Sat, Nov 20, 2021 7:30 pm to 10:00 pm
This event is from the archives of The Notice Board. The event has already taken place and the information contained in this post may no longer be relevant or accurate.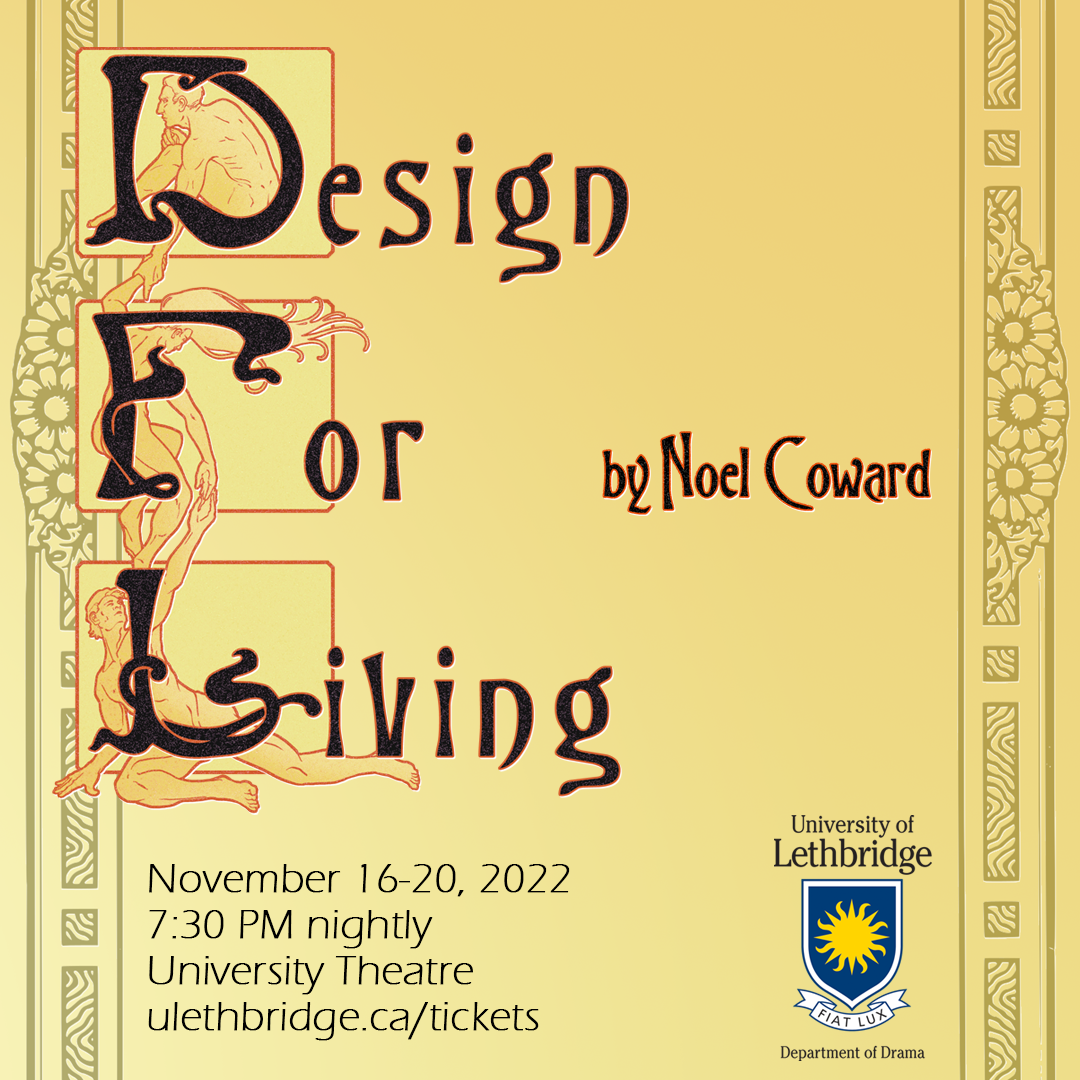 Design for Living by Noel Coward
Nov. 16 - 20 | 7:30 pm | University Theatre
https://ulethbridge.ca/tickets
Tickets are $18 adult | $15 seniors and alumni | $12 student
Seating is limited
The Drama Department presents Noel Coward's sumptuous play, Design for Living!
Gilda, Leo and Otto are stuck in a love triangle with each other. Gilda can't decide, does she love Leo more, or Otto, and what about Ernest? Who should she choose? Spanning three acts and travelling from apartments in Paris and London to a lavish New York penthouse, Gilda jumps from man to man to man in this hilarious and provocative romp from the pen of Noel Coward.
"The play is very quick, witty, and entertaining," says director and Department of Drama faculty member, Jay Whitehead. "Design for Living tells the story of three adults who have chosen a different path for their lives and are defining their relationships on their own terms. Noel Coward was indeed ahead of his time. The relationships he created, and treatment of sexual fluidity has been very interesting to explore."
Audiences will be transported to an era draped in luxury and dripping with lavishness. "For a play that was produced in 1933, Design for Living certainly has a contemporary feel," says set and costume designer, and Department of Drama faculty member, Julia Wasilewski. "It is an aesthetically pretty production, capturing the richness of bohemian life and the opulence of its time. We are staying true to the time it was written, using vintage patterns and set pieces."
Tickets are available at the University Box Office Monday – Friday, 12:30pm – 3:30pm, or by purchasing online: ulethbridge.ca/tickets. Tickets are $18 adult, $15 seniors and alumni, and $12 for students. U of L Students may show their ID at the box office to receive one complimentary ticket for this production.
After November 1, 2021, all individuals aged 12 and over accessing our campus are required to be vaccinated, this includes all members of public attending our performances and events. The Government of Alberta has launched a vaccine record service and has created QR code to help identify vaccinated Albertans. Event attendees will be asked to show this proof and photo ID, prior to entering any venue. Attendees who cannot provide this attestation will be refused entry and no refunds will be issued.
Masks are Mandatory on campus and in all performance venues, for the full duration of the performance.
https://ulethbridge.ca/tickets
Tickets are $18 Adult | $15 Seniors and Alumni | $12 Students
University of Lethbridge Students: Receive 1 complimentary ticket for this show! Present your U of L ID at our Box Office window to reserve your free seat!
Contact:
finearts | finearts@uleth.ca