Fri, Nov 26, 2021 8:00 pm
to
Mon, Nov 29, 2021 8:00 pm
This event is from the archives of The Notice Board. The event has already taken place and the information contained in this post may no longer be relevant or accurate.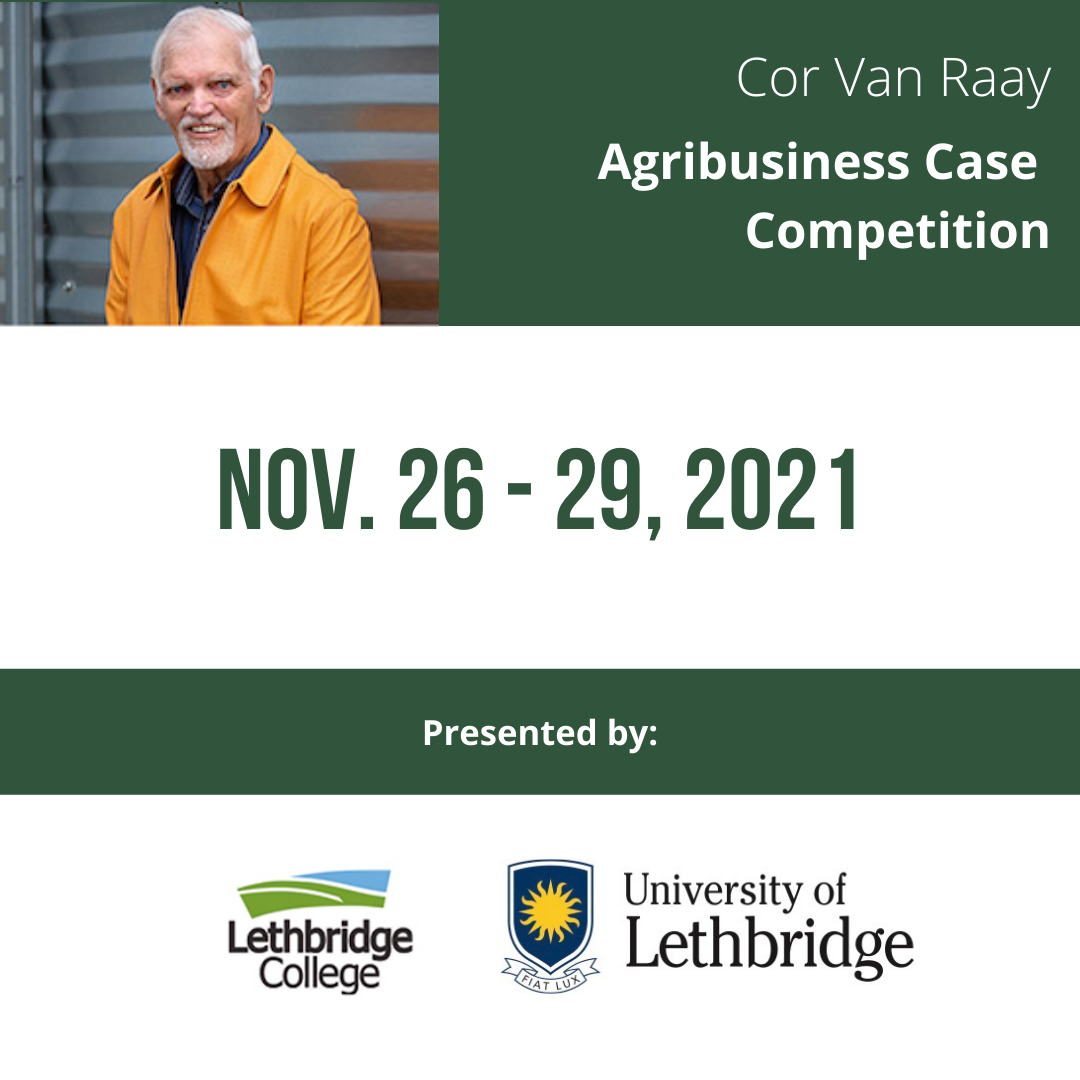 The Cor Van Raay Case Competition will be held virtually for the 2021 year. The event is tailored for university undergrads and college students from the University of Lethbridge, Lethbridge College, and other post-secondary institutions. Participants can be in any year of study and from a range of disciplines, including agricultural studies, economics, commerce and business programs. Over the two days, students will participate in a variety of professional development activities that will strengthen their teamwork, problem solving and networking skills, while being introduced to professionals in the industry.
Student teams of up to five members will compete head-to-head in a virtual agribusiness simulation. The teams will be given three hours and 15 minutes to complete the simulation. Afterwards, they will develop and record a video presentation outlining their decision-making process within a one-hour-and-45-minute time period. Students will present a 15-minute video they created to a panel of judges and answer questions live to demonstrate their knowledge of agribusiness. Teams will compete for their share of $2,000 in prize money.
Friday, Nov. 26: Networking and Keynote: 
6:30 - 7 p.m. - mandatory student meeting (students only)
7 - 9:30 p.m. - welcome, keynote, networking 

Keynote by Trevor Lewington, Chief Executive Officer, Economic Development Lethbridge 

Topic: Areas for growth in agribusiness, new trends, predictions for the future, COVID impacts, recent government trade barriers, etc
Saturday, Nov. 27: Agribusiness virtual simulation and presentations
8 a.m. - 6 p.m. - Simulation, preparation and presentations
Three hours and 15 minutes for the simulation (six periods)
One hour and 45 minutes for presentation prep and filming
Presentations and Q&A with judges start at 1 p.m.
Monday, Nov. 29: Award presentation
(Note — students can sign up to attend the keynote and networking only, although it is strongly encouraged they participate in the entire two-day event)
Students can register at go.uleth.ca/agribusiness 
Contact:
Sara-Jane Takeyasu | agribusiness@uleth.ca