Daily from Tue, Nov 24, 2015 to Sat, Nov 28, 2015 7:30 pm to 9:30 pm
This event is from the archives of The Notice Board. The event has already taken place and the information contained in this post may no longer be relevant or accurate.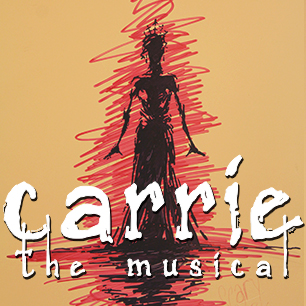 Carrie: The Musical
Music by Michael Gore; Lyrics by Dean Pitchford; Book by Lawrence D. Cohen; Based on the novel by Stephen King
Jay Whitehead – Director and Choreographer
The Horror and the Humanity
Electric energy, a beautifully performed musical score, the human condition alive amongst the theatrics -- Carrie: The Musical is more than horrific, it is spectacular. Director Jay Whitehead says he is not holding back anything in this mainstage performance hitting the University Theatre Nov. 24 – 28 at 7:30 pm nightly. There is also a 1 pm matinee on Saturday Nov. 28.
"Audiences can expect a real spectacle. Underneath the horror is this beautiful human story about relationships, coming of age, and the repercussions of making poor decisions. As a director I have always tried to keep that human element alive," says Whitehead.
Based on the novel by Stephen King, the musical tells the story of Carrie, an outcast in school, burdened by an eccentric and overbearing mother. These worlds torment her, until finally her rage boils over and everyone in her path pays the price. Whitehead says the musical is true to the original novel, with little variances. "The story differs in the way morals are highlighted," he explains. "The story speaks to the dangers of high school culture and the consequences of bullying."
It was not just the human versus horror aspects that drew Whitehead to the musical. "I've been a Stephen King fan for decades and a fan of musical theatre as well. When it came out in 1988, I became obsessed with it. I thought there were a lot of challenging and exciting roles for student actors."
Along with tough roles like that of Carrie (played by Drama major Alexa Elser), the musical has its share of challenges. From making objects fly across the room, to creating a believable high school prom, Whitehead and his cast of 30have been working closely with sound technician Kelly Roberts and faculty member Lee Burkes, who designed set and lighting, to make the stage magic come to life.
"It's been fun watching the cast evolve," he says, "There is electric energy and synergy in dance! It is a joy to work in that kind of positive energy."
Other challenges lie within the horrific aspects of the show. "It is challenging to maintain elements of horror in a musical. In a book you can delve deeper into the character's thoughts. On stage you have to be creative so the audience can feel that sense of doom. The music does a great job of setting that mood," says Whitehead who promises an eclectic range of music from opera to pop-rock.
"Love it or hate it, this show is unique and not something you have seen before," he says.
Carrie: The Musical runs daily starting Nov. 24 at 7:30 pm, with a matinee Saturday, Nov. 28 at 1 pm. For tickets call the Box Office, 403-329-2616 or visit ulethbridge.ca/tickets.  
Tickets available September 14.
Online: ulethbridge.ca/tickets
Phone: 403-329-2616
Box office: M-F 12:30-3:30 pm, and 1 hour before ticketed performances.
Contact:
Katherine Wasiak | katherine.wasiak@uleth.ca | 403-329-2227