Fri, Mar 8, 2019

12:00 pm

to

12:50 pm
This event is from the archives of The Notice Board. The event has already taken place and the information contained in this post may no longer be relevant or accurate.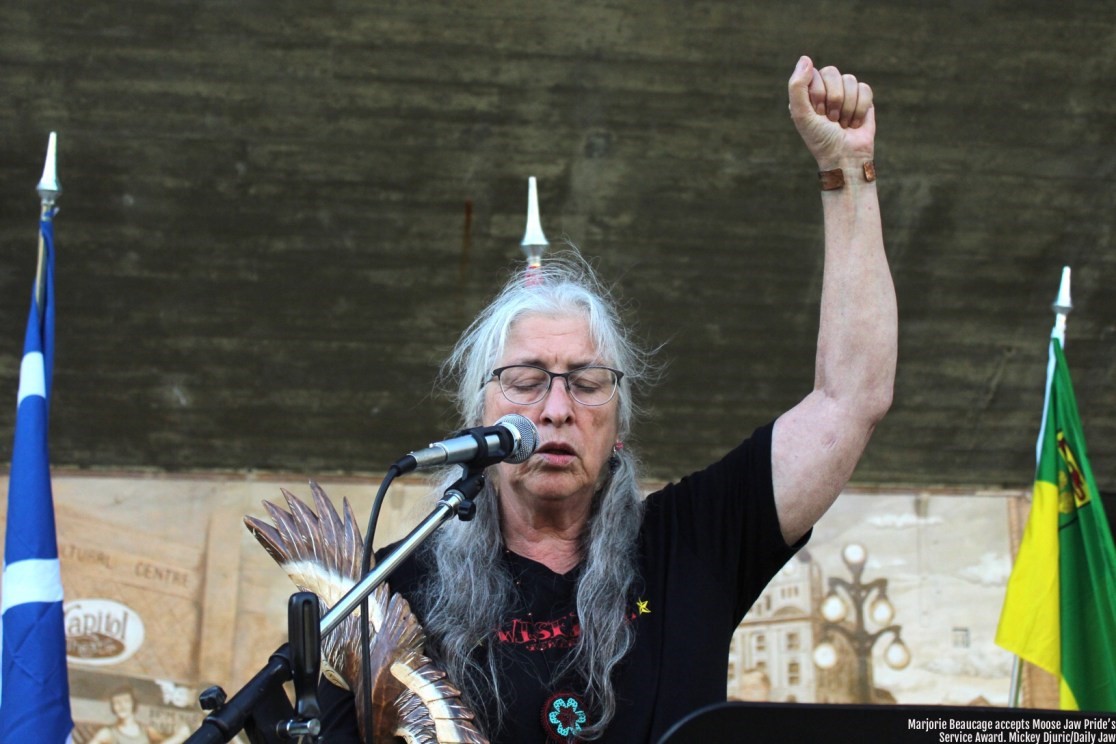 Art NOW presents Marjorie Beaucage
12 pm | March 8, 2019
University Recital Hall
Free admission, everyone welcome!
Marjorie Beaucage is a filmmaker, cultural worker and educator. Her work has been screened in bingo halls and at City Hall, from Northern Labrador to New York. She is a change agent, both in her own life and in the lives of those around her. At 70, during a residency at the Santa Fe Art Institute in New Mexico in 2017, she reflected on a lifetime of art and activism and wrote about her life. While there, she experimented with Circus Arts and Spoken Word as new forms for sharing her life stories. 
In the early 1990's, Marjorie Beaucage was a co-founder of the Aboriginal Film and Video Art Alliance. As a "Runner" she worked as cultural ambassador to negotiate self-governing partnerships and alliances with the Banff Centre for the Arts, V-Tape, the Canada Council for the Arts, and the Saskatchewan Arts Board, which resulted in the development of new Indigenous Arts programs. She also programmed the first Aboriginal Film Festival in Toronto, Reel Aboriginal, at Harbourfront Centre in 1992.
Beaucage has always challenged the status quo to make room for different ways of being. She has taken on mainstream institutions like  the NFB's Studio D and Studio 1, TVNC (Television Northern Canada) and Telefilm Canada, Arts Councils, advocating for spaces for Indigenous Peoples to have their own voice, be visible in media, and explore storytelling traditions in contemporary ways.
While on-campus, Beaucage is also facilitating a storytelling bundle workshop.  Registration is not required and everyone is welcome to participate.  More information can be found on our website here.
Image courtesy of artist.
We acknowledge the support of the Canada Council for the Arts, which last year invested $153 million to bring the arts to Canadians throughout the country.
Nous remercions le Conseil des arts du Canada de son soutien. L'an dernier, le Conseil a investi 153 millions de dollars pour mettre de l'art dans la vie des Canadiennes et des Canadiens de tout le pays.
Contact:
finearts | finearts@uleth.ca | uleth.ca/fine-arts