Mon, Sep 20, 2021

12:00 pm

to

1:00 pm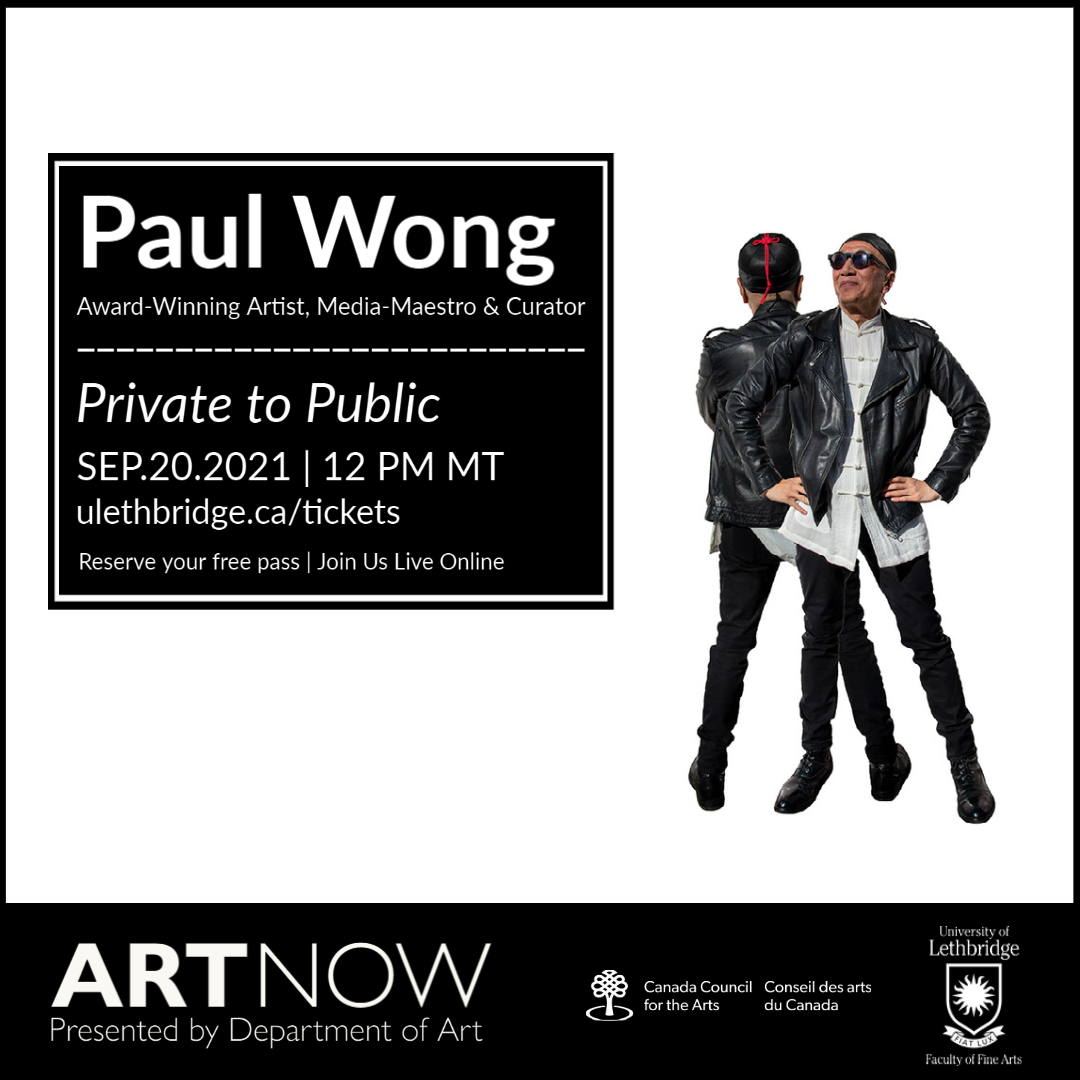 ART NOW: Paul Wong
Private to Public
12 pm | September 20, 2021
uLethbridge Online Presentation
Free admission, everyone welcome
This illustrated artist talk will focus on current and past art works/projects that uses everyday life experiences and private matters as source material for public art works exhibited in traditional and non-traditional venues and platforms. The talk will also cover the recent Occupying Chinatown series of works, including the book being released on Sept 11.
He is also facilitating studio visits with uLethbridge art students. Learn more about studio visits here.

Paul Wong is a media-maestro making art for site-specific spaces and screens of all sizes. He is an award-winning artist and curator who is known for pioneering early visual and media art in Canada, founding several artist-run groups, leading public arts policy, and organizing events, festivals, conferences and public interventions since the 1970s. Writing, publishing and teaching have been an important part of his praxis. With a career spanning four decades he has been instrumental proponent to contemporary art.
Born in Prince Rupert, British Columbia, in 1954, Paul Wong has shown and produced projects throughout North America, Europe and Asia. His works are in many public collections including those of the National Gallery of Canada, the Museum of Modern Art (New York), the Canada Council Art Bank (Ottawa), and the Vancouver Art Gallery. He is in numerous private collections and is the recipient of several major commissions and grants.
Wong is the winner of the Bell Canada Award in Video Art for outstanding contribution to the field of video art in 1992. He was the first recipient of the Transforming Art Award from the Asian Heritage Foundation in 2002 and the inaugural winner of the Trailblazer Expressions Award in 2003, created by Heritage Canada, and the National Film Board. In 2005, Paul Wong received Canada's Governor General's Award in Visual and Media Art for outstanding contributions to the field. In 2008 he was awarded Best Canadian Film or Video at the Toronto Reel Asian International Film Festival.
Capturing the everyday, he uses video as mirror and probe, both to discover his own identity and to reflect the world back onto itself. Wong picked up a Portapak video camera in the 1970′s as a renegade against the world around him and has become one of Canada's most renowned multimedia artists. He is known for his fierce engagement with issues of race, sex, and death. His work is varied and eclectic, ranging from conceptual performances to complex narratives and site-specific spectacles. He is a media subversionist and cultural strategist relying on artistic entrepreneurial smarts and raw originality with an eye for social context, driven by an insatiable search for identity, community, and authenticity. He always has a camera. 
We gratefully acknowledge the support of the Canada Council for the Arts. Nous remercions le Conseil des arts du Canada de son soutien. 
Room or Area:
ulethbridge Online Presentation
Reserve your pass HERE
Admission is FREE. Please reserve your pass to attend this online presentation.
Contact:
finearts | finearts@uleth.ca | ulethbridge.ca/fine-arts/event-season