Wed, Sep 15, 2021

12:00 pm

to

1:00 pm
This event is from the archives of The Notice Board. The event has already taken place and the information contained in this post may no longer be relevant or accurate.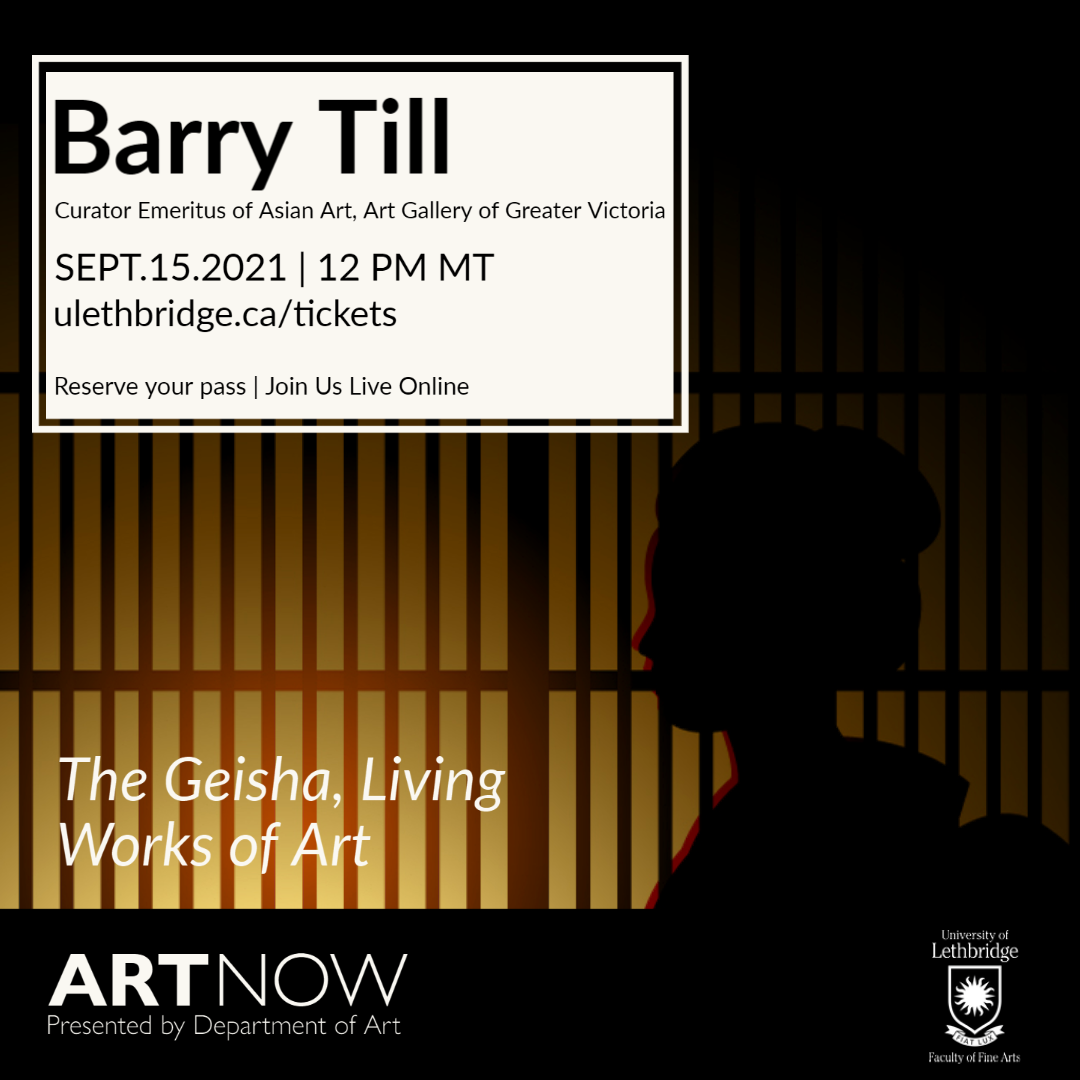 Art NOW presents Barry Till
The Geisha, Living Works of Art
12 pm | September 15, 2021
uLethbridge online presentation
Free admission, everyone welcome
Barry Till, Curator Emeritus of Asian Art at Art Gallery of Greater Victoria, speaks in the first Art NOW of the fall 2021 semester. The talk will focus on geisha in general in Japanese society and in particular, on one of the most successful and influential geishas ever, Ichimaru, as evidenced by her prolific recording career and her beautiful wardrobe in the exhibition, From Geisha to Diva: the Kimono of Ichimaru, on view at the Galt Museum & Archives from September 25, 2021 to January 9, 2022. 
Barry Till received his B.A. and M.A. degrees in Far Eastern Studies at the University of Saskatchewan, Canada and started a D. Phil at Oxford University. His studies were interrupted when he was awarded an exchange scholarship to China in 1977, where he spent three years studying and doing research work in Chinese archaeology at the University of Nanjing.  He was selected as a model student (san hao xuesheng) by the Nanjing University professors. 
In 1980, he worked at the Far Eastern Department of the Royal Ontario Museum and in 1981 he became Curator of Asian Art at the Art Gallery of Greater Victoria until 2017.  Till has lectured on numerous museum and university tours throughout China, Mongolia, Tibet, India, Vietnam, Cambodia, Burma, Japan and other parts of Asia, and speaks fluent Chinese.  He has travelled to Asia at least once a year for the past thirty years often lecturing on private jet tours for various museums, universities, and companies (like National Geographic and the Smithsonian tours). He has written more than 70 exhibition catalogues and over 50 articles on Asian art for learned journals (mainly on Chinese and Japanese art).  He has organized roughly 200 exhibitions on Asian art, many of which have travelled throughout Canada and occasionally the US and New Zealand. In 2008 he received the Distinguished Service Award from the Canadian Museums Association.  He has been Curator Emeritus of Asian Art since 2017.
Thank you to the Galt Museum & Archives for their collaboration on this talk. 
Room or Area:
ulethbridge Online Presentation
Reserve your pass HERE
Admission to this online presentation is FREE. Please reserve your pass to attend this online session.
Contact:
finearts | finearts@uleth.ca | ulethbridge.ca/fine-arts/event-season