Thu, Nov 23, 2023

11:30 am

to

12:30 pm
This event is from the archives of The Notice Board. The event has already taken place and the information contained in this post may no longer be relevant or accurate.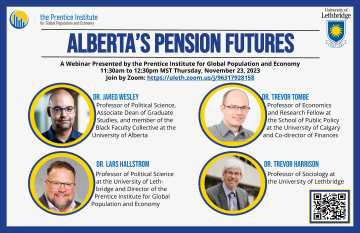 In September 2023, the Alberta government released the LifeWorks report detailing the possibility of a withdrawal from the Canada Pension Plan.
Since then, a number of questions have been raised about the content of the original report, the implications of adoption, the process for decision-making, and both the politics and optics of the proposal. As the province rolls out telephone town halls on this report and potential referendum, the Prentice Institute for Global Population and Economy is proud to host an online panel on the report, its implications, politics, and the realities of the possible change to Alberta's (and Canada's) pension system.
Featuring Dr. Jared Wesley, Professor of Political Science at the University of Alberta; Dr. Trevor Tombe, Professor of Economics at the University of Calgary; and Dr. Trevor Harrison, recently retired Professor of Sociology at the University of Lethbridge, members of the public and academic communities are welcome to join the online webinar on Thursday, Nov. 23 from 11:30 a.m. - 12:30 p.m.
The panel will be moderated by Dr. Lars Hallstrom, Director of the Prentice Institute.
Contact:
Devon Tordoff | prentice@uleth.ca | prenticeinstitute.ca
Attached Files: